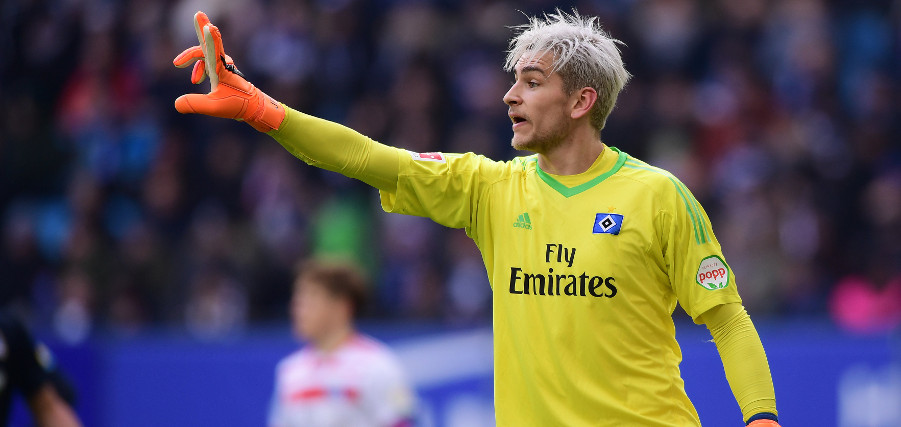 "Polle", the eleventh outfield player
Julian Pollersbeck stood in goal to make his third competitive appearance for HSV in the last home game; however, he wasn't only to be seen in goal. His position has been completely reinterpreted by the new coach.
He is one of the winners of the coaching change. Under new head coach Christian Titz, Julian Pollersbeck is back between the sticks for Hamburger SV. The coach builds on the abilities of the 23-year-old and made him into the club's new number one ahead of the game against Hertha. The U21 Euros winner fits well into Titz's system of play. The new coach expects his goalkeeper to be to the first player in the build-up play, to be an active part of the game and distribute the ball well. "Polle" is the 11th outfield player in Titz's set-up and the goalkeeper seems well prepared for it: "I really like the coach's concept. As a goalkeeper, I've always tried to be a part of the build-up play. I'll continue to give my all in training and try to settle into this role so that I can play at the highest level for the team."
Julian Pollersbeck was a vital pivot in the build-up play against Hertha
He proved that he could take on this new goalkeeping role last Saturday. He interpreted the game just as his coach wanted him to. Pollersbeck played attacking football and could be seen almost everywhere in the Hamburg half. He had 77 touches of the ball, the fourth-most of any HSV player and, what's more, 36 of those touches were made outside the box. It's a change which no one was bold enough to dream of before, but it's now a reality under Titz. And the coach wants even more. "Julian did extremely well in his first match. He played with confidence and he opened up the game, which helped us. Now we have to carry on working on it over the next few weeks and get accustomed to this style of play, and that applies to the whole team." Pollersbeck didn't only put in a strong performance in attack, he also made two fantastic saves against Vladimir Darida and Vedad Ibisevic.
Despite the loss, the strong performance gives hope to the team. The Rothosen showed the first signs of Titz's style of play in the first half of the match. Now Pollersbeck and the rest of the team have two weeks to further refine and implement the coach's pressing style of play.