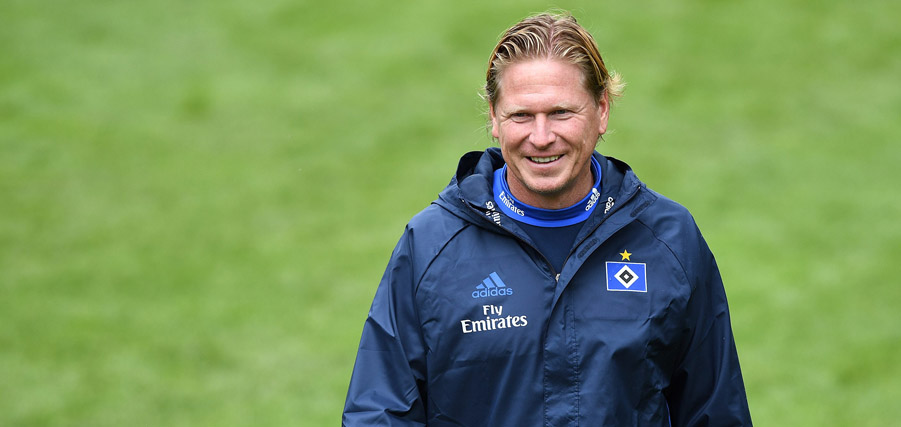 Positive mood does everyone good
HSV head coach Markus Gisdol discusses the mood after the successful start to the new Bundesliga season, possible new additions to the squad ahead of the end of the summer transfer window and a boxing trip.
Delight? Yes. Euphoria? No – it the best way to describe the current mood in the Rothosen camp. HSV are one of only four teams to take maximum points from their opening two Bundesliga games of the new 2017/18 season. A perfect way to enter the first break for international break. The victories over Augsburg at home 1-0 and Cologne (3-1) away from home have of course boosted everyone at the club and created a positive mood: "Of course our fans, players and staff can be delighted with our start. But we should not be too euphoric and remain realistic." Gisdol is keen to keep everyone grounded and continue to work hard during the international break without the nine men on international duty. There were two training sessions held on Monday and at 6.00 PM this evening the Rothosen will play a friendly game against fifth division side NTSV Strand 08. The week will be rounded off with a single session on Thursday and Friday. Gisdol on…
The mood after the successful season start: I believe that our fans, players and staff can be happy with the start, but we should not be too euphoric and remain realistic. Nobody should put expectations for coming games too high and everyone is aware of how to assess the situation."
Possible new signings: I will not mention any player names because that would make no sense. We have already commented on the matter of replacing Nicoliai Müller. You need a lot of luck so late in the transfer window to get the player you need. Luck should not be a major factor when you invest so much money. It all has to fit perfectly. We are well advised to trust our current squad and give the lads the time they need to further develop. Something is happening within our team right now and that is most important.
Training in the boxing gym: When you have an international break like now it offeres a welcome opportunity to train in a different sport. Boxing is very strenuous and the lads are not meant to hit each other but far more get some power work in. I have often used box training with other teams in the past and the lads really enjoyed it because it shakes up the usual schedule and is a welcome change.
Defensive pairing of Walace/Ekdal: Both have done well. In training it was plain to see that we have taken a major step forward with them. Gideon Jung is also coming along well and is catching up. I am sure that he will be helping us regardless of where he plays in the team. I hope everyone stays fit and that Albin returns unscathed from international duty.
The Papadopoulos dive against Cologne: He is not a typical diver and knows he messed up. He had a rare moment of madness and has admitted his mistake. I cannot remember him ever doing it before and I'm sure he won't in the future.
Nicolai Müller: I texted him after he underwent surgery but have yet to see him personally. Of course he is in pain and that he has to remain calm. The only way is up after such an operation. Nicolai has a long tough road ahead but I'm sure he will come through okay.