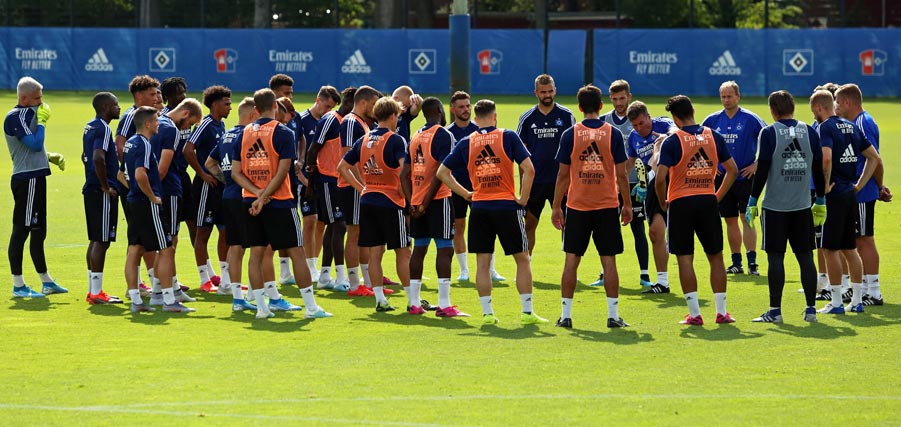 Preparations for Nuremberg: Everyone on board
During training on Wednesday, all 28 first-team members were present, with all on the injury list having been given the go-ahead to re-join the action by the medical team.
Even the well-travelled coaching duo of Dieter Hecking and Dirk Bremser had rarely seen such a turnout; as the preparations for the first away game of the season in Nuremberg on Monday (5th August) gathered pace, every possible name had been ticked off the register. 28 players, including three goalkeepers, were present and raring to go, with no member of the squad completing individual training with rehabilitation coach Sebastian Capel or strength and conditioning coach Daniel Müssig. The conclusion: everyone on board. "As a manager you're obviously pleased with a turnout like that," was manager Hecking's reaction after training.
Along with tactical preparations for the game in Nuremberg, the coming days will mainly be used to further integrate the players who are behind the others in terms of fitness. Timo Letschert only started training with his former employers Sassuolo two and a half weeks ago, due to the later start in Serie A. Ewerton, Gideon Jung and David Kinsombi have all only just returned from injury and haven't put their body under this much duress for an extended period. "We want to keep building them up. Then we will see who could be available for selection on Monday," was Hecking's assessment of the situation. With more involved in training, the competition for places also intensifies, with the players making it as difficult as possible for the manager to choose the starting XI for Monday evening. And that is exactly the reason that excites the coach the most.