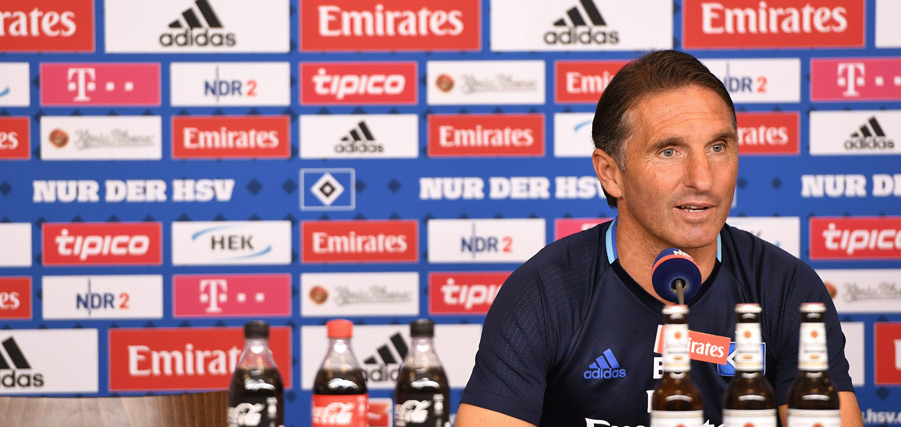 Press conference
22.09.16
"Take that small chance"
At pre-match press conference ahead of Bayern Munich's visit to the Volksparkstadion in Hamburg on Saturday afternoon (24.09.16, 3.30 PM) for a Bundesliga matchday 5 encounter , HSV head coach Bruno Labbadia spoke of the current overall situation at his club, Bayern's qualities and gave the latest team news.
After three painful defeats, Labbadia and his men have tunnel vision. And they will need it given the size of the task ahead. On Saturday afternoon all-conquering Bayern Munich visit that full to the brim Volksparkstadion for HSV's toughest game of the new season so far. In order to shine against what on paper appear to be impossible odds The short preparation time has to be used wisely: "We want to take the small chance that is there. We want to grab it with both hands", Labbadia told the media gathered in the press room.
The 50 year old former striker spoke on the following topics…
... the tense situation at HSV: I am focusing on influencing the things I can, which is of course perparing the team for the game. We have done well in the past to keep outside influences away from the team, who must be able to only focus on football. I would like everyone to concentrate on the overall picture and that the team be able to go into the game with their minds as clear as possible.
... his expectations for the game: I am relishing the game. I watched Bayern on Tuesday night and I must say they are not a bad side. They could have won by more even against a team like Hertha Berlin and should have been two goals ahead after three minutes. They have become even tougher to beat. They have great flexibility and their stars and now well integrated in the team. That is what makes them different to previous years. But we want to take the small chance we have with both hands!
... first game of the season: We always began games well and always had a plan which could have worked. But we have failed to deliver results for differing reasons and we must simply do better. We are well aware that the input of the pre-season period is not working so far this season. We have to untie that knot. It is not about individual players who can be swapped. No, sadly everyone is making individual mistakes and that has to stop right away.
... team news: Filip Kostic has a groin problem and is doubtful. His chances of playing are 50 – 50 at best. We will see how things go in the time left. Apart from that with the exception of Dennis Diekmeier, who is individually training following his hamstring tear everyone is available for selection.