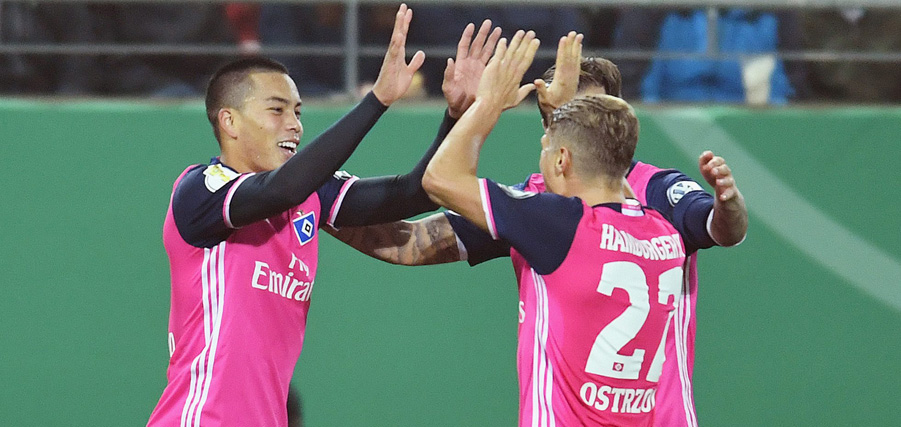 "Tasting success does us good"
After the 4-0 DFB Cup round 2 win at Halleschen FC on Tuesday night, the Rothosen we spoke to were relieved to finally taste success following the poor start to the season.
HSV cruised to a 4-0 away to Halleschen FC at the sold out Erdgas Sportpark (14,000) to reach round 2 of the 2016/17 DFB Cup. It goes without saying how badly HSV needed some success after the nightmare start to the Bundesliga season. Everyone agreed that now is the time to consolidate the victory away to Cologne in the Bundesliga this weekend.
Bobby Wood: We badly needed some success, so this victory will do us the world of good. We can be happy with the way we fought hard for each other and the way we played in general. At the same time we know that it was a game against lower league opposition that we were expected to win. That is why we will remain quiet and focused as we prepare for our next task away to Cologne.
Luca Waldschmidt: The victory today was important for the mind. We scored lots of goals and gathered confidence. We have to carry it over into Sunday's game. On a personal note I am delighted to have opened my scoring account with HSV. I always give my best to try to catch the eye in training.
Pierre-Michel Lasogga: Of course the win feels good, after we have recently had to take justified criticism. We took a step in the right direction tonight, especially the way we performed as a team. We have to take that spirit with us into every game. We now have to consolidate this performance by performing well in Cologne on Sunday.
Markus Gisdol: We knew how tough the game would be. Halle are surely one of the favourites for promotion from the third division this season and have played well in recent games- We did not come here with much confidence, which is why we played in a controlled and disciplined manner. The early goal set us up and aside from an incident just before the break we never looked back. We analysed the game seperately and selected the team accordingly. The team did well putting it all into practise.
Rico Schmitt (Halle coach): Of course we had planned for things to work out differently, but we made life easy for HSV in the first half through the mistakes we made. They played a simple game and brutally punished our mistakes. There was a real cup atmosphere just after the break. I think if we could have scored at that time the game may have ended differently. The third goal killed the game off and maybe we lacked a little courage. Now we have to pick ourselves up and move on. I wish HSV the best of luck.