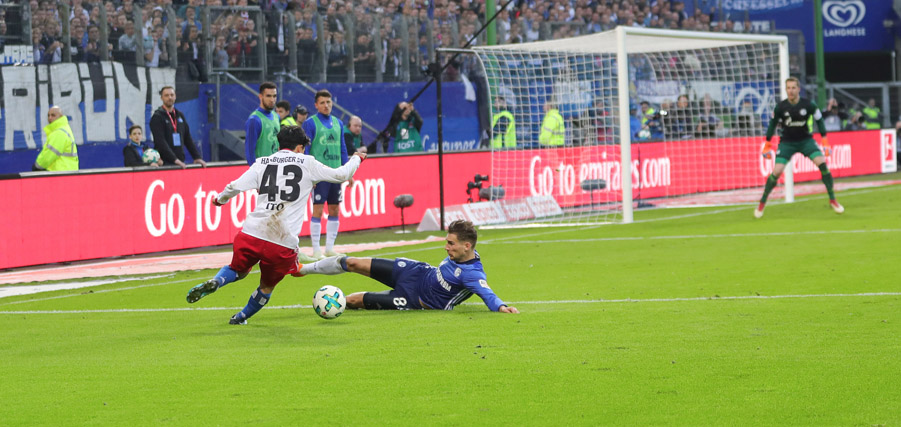 Small man, big heart!
TATSUYA ITO HAS BEEN THRIVING ON THE WING UNTER HSV HEAD COACH CHRISTIAN TITZ. THE LITTLE JAPANESE MAN WITH THE HEART OF A LION HAS ADDED AN ELEMENT OF SURPRISE TO HSV'S ATTACKING PLAY.
In the five competitive matches since Christian Titz took charge, HSV have place great importance on having possession and keeping the ball under control, averaging 58.4% possession and peaking at 61% in the 3-2 home win over Schalke 04. But possession alone doesn't win football matches. "If you only pass the ball sideways or backwards, then having lots of possession means nothing," knows 20-year-old winger Tatsuya Ito.
The 20-year-old Japanese winger, who has made 17 appearances and played his way into the hearts of HSV fans this season, has become the squad's dribbling king. "My strengths definitely lie in one-on-ones," he believes. "It's good to have the ball at your feet, but sometimes you need to take the necessary risks. That's my role. If I can get past my man then it's a big advantage for us as it helps us create chances."
ROLE MODELS RIBERY, HAZARD, MERTENS AND INSIGNE
Titz knows Ito from his time coaching the U21s at the start of this season, before he then made his spectacular debut in the Nordderby back in September 2017. The 47-year-old demands that his players show courage on the pitch and he has taken great strides to make the most of the youngster's strengths. "I already knew how the coach likes to play football and that made it a lot easier for me to step in. On top of that, his system fits with my style of play," said Ito, who has been through a difficult patch following his electric start to life in the Bundesliga.
But he refused to be knocked down and has worked hard on his game. "I'm really ambitious and want to improve every second. Whether that's through the work on the pitch, in the gym or in recovery. That's why I haven't let myself slack off when I went through a phase of not being selected," he told. The hard work paid off, as he is now a key figure in the starting XI. He's recently played two full 90 minute matches and 87 minutes in another. At just 1.67 meters, Ito laughed off and suggestions that his height could be a problem for his coach, arguing "it's an advantage to be small as a winger. Agility, stability and speed are all important in this position." Ito cites his role models Eden Hazard (1,73 m), Franck Ribery (1,70 m), Dries Mertens (1,69 m) and Lorenzo Insigne (1,63 m) as examples of size not being a disadvantage for him.
"IT'S ALL ABOUT HSV!"
Ito, who joined HSV's academy in 2015, is a confident young man with both feet on the ground. Despite being so far from home, the 20-year-old feels settled in Hamburg: "I'm very comfortable being alone. It's great when I get a chance to go home once or twice a year to see my family." And on suggestions that he may make Japan's World Cup squad? "I've not spoken to the national team coach and I'm only 20. Right now it's all about HSV." The youngster also isn't fazed by the fact that his spectacular performances aren't yet yielding goals and assists: "Of course I can, and must, improve in many areas, including scoring goals and crossing in balls that lead to goals. You also need a little bit of luck in that area."
With just three games remaining, Ito is determined to give his all to helping keep HSV in the top flight. "We're still alive and you can sense that attitude. Above all, the Hamburg fans are really amazing. For them alone, we simply cannot give up. If we beat Wolfsburg, we're just two points off. You can do that in two games. We won't go down."