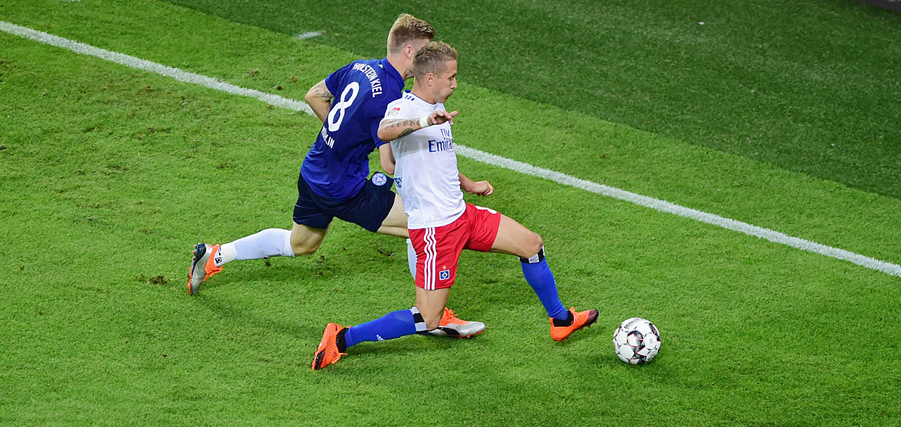 "That wasn't our true face"
HSV lost 3-0 in their 2. Bundesliga debut. Captain Lewis Holtby and his teammates share their thoughts after the bitter defeat.
Despite a positive start and a hatful of spurned chances in the first half, Christian Titz's men were beaten by a more clinical Holstein Kiel, who bagged three in the second half to run out convincing winners. HSV.de rounds up all the reaction to the disappointing loss.
Khaled Narey: "There's no easy explanation for this defeat. We had obviously imagined things going differently and are really disappointed. In the first half we actually did really well. In my view, the key issue wasn't that we didn't take our chances, but rather that we lose our rhythm in the second half. We wanted to continue playing out from the back, but we made too many mistakes. On top of that, we got caught on the break too often. There will be a few phases of play that we'll need to analyse tomorrow
Lewis Holtby: "3-0 – it's hard to come to terms with this result. We started well and had to take the lead. But in the end as the game went on, we stopped playing as a team. We weren't winning challenges, made too many wrong decisions and gave the ball away too often. As a team, we failed. For 60 to 70 minutes, we simply didn't do enough and we didn't show our true selves. We need to now dust off the defeat and play better football next weekend."
Ralf Becker: "The bottom line is that Kiel were more aggressive and stronger in their challenges, therefore they deserved to win. We started the game well, had lots of chances, but didn't reward ourselves with a goal. That obviously hurts a lot because we felt so good before the game. We need to analyse the game, learn from it and see what we can do better next week."
Christian Titz: "I think we started the game well enough. We had really good chances in the first 20 minutes, but we didn't take them and then Kiel slowly found their way into the game. I think the take away from this game is that we conceded three goals and in each instance we had extra cover. Kiel played it out very well and were tougher in their challenges. For those reasons, Kiel left the pitch as deserved winners."
Tim Walter: "HSV started the game very well and could have scored. We weren't brave enough at the start and gave the ball away too quickly. After 20 minutes, we started to play better. We were wonderful in the second half. We didn't let HSV take a breath and put them under so much pressure that they started to make mistakes. As a result, the win was completely deserved."