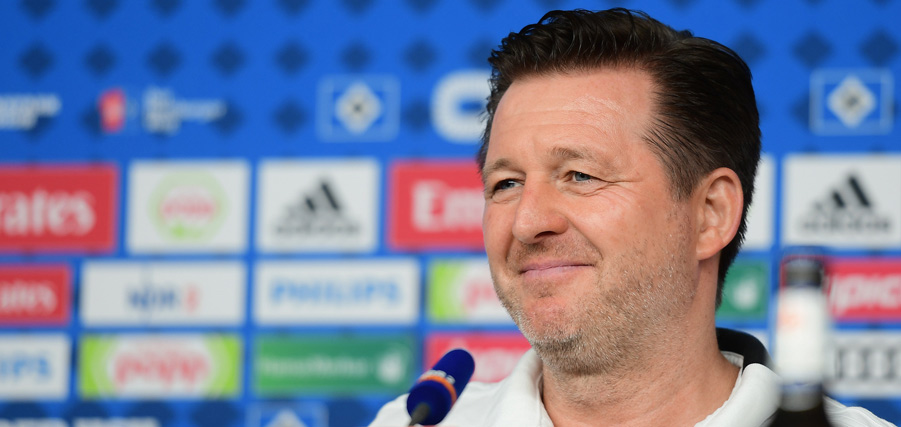 press conference
16.08.18
"The Pokal is a special tournament"
During a press conference ahead of their DFB-Pokal first round clash against TUS Erndtebrück, HSV coach Christian Titz discussed the excitement ahead of the tournament, their upcoming opponent and Fiete Arp's development.
It's a busy week in the HSV camp. After recording their first win of the season last Sunday in Sandhausen and collecting some vital experience during their friendly against Bayern München on Wednesday, die Rothosen face Oberliga side TuS Erndtebrück at the Siegener Leimbachstadion on Sunday evening (from 18:15 CEST). In front of more than 4600 travelling fans, Christian Titz's team will set about their task of progressing to the second round of the Pokal. The HSV coach laid out the situation clearly to the press: "The Pokal has its own unique character. Teams go into games with a different attitude. How you perform on the day often decides the affair. We are absolutely intent on progressing."
The 47-year-old spoke in detail on…
… the excitement ahead of the Pokal: Of course there's a definite sense of excitement around. The Pokal is a special tournament. Even though there's a big gap on paper between the teams, we cannot by any means underestimate the opponent. We will focus on the task at hand and will go into the game with a professional mindset. We want to progress on Saturday.

… the team selection for the weekend: We have a lot of good players, who are currently fit. Some of them will get some game time with the U21s over the coming week. Lacroix, Behrens, Kwarteng, Moritz and Wintzheimer belong to that bracket. They need a bit more match practice and can build up their confidence in the hotly contested Regionalliga.
… his estimation of Saturday's opponent: Erndtebrück lost their first league game, but we analysed that match on Sunday evening and concluded that things will be very different this weekend. Both teams are playing in the Pokal. Such encounters don't play out like normal league games. With Erndtebrück, we face a team who will throw everything at the match. It's difficult to say how they'll line-up. They might well switch up their formation. In any case, we're well prepared and will go through with our game plan.
… the chances of progressing: Anything can happen in the Pokal. Every team is hugely motivated going into the tournament. You can sometimes get tripped up in these games. We're aware of the nature of the Pokal and so need to tread carefully. We want to give a good performance whenever we step onto the pitch and we know that we have the chance to achieve something each time we progress one round further.

… Fiete Arp's development: Fiete played for the U21s and attacked the task laid in front of him. He had a good game and scored goals. He's developing just as we hoped. Fiete's confidence is improving as he gets more minutes under his belt. I'm absolutely delighted. He'll be in the squad that travels to Erndtebrück on Saturday.
… the condition of Aaron Hunt and Matti Steinmann: Both of them seem to be recovering well. There haven't been any further complications. We'll ease them back into training this week so they can rejoin the first team at the start of next week and potentially play in the home game against Bielefeld