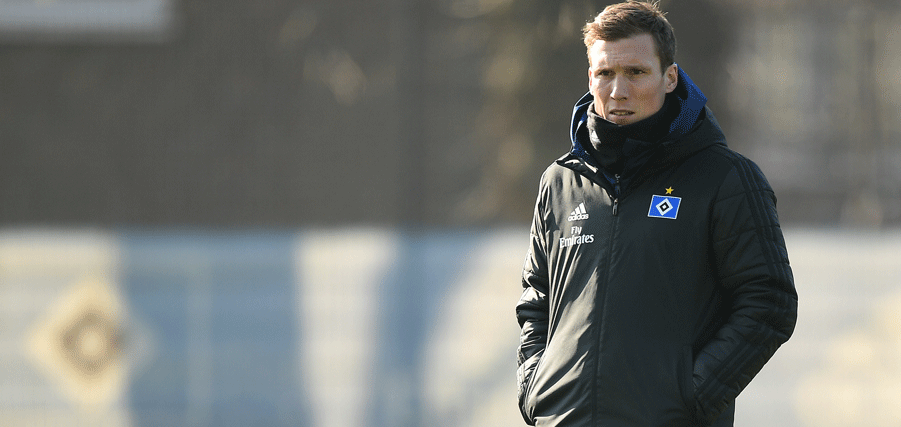 Post match report
17.02.19
"There will be more pressure"
On the day after HSV's 2-2 draw with Heidenheim, head coach Hannes Wolf spoke about the points tally, squad news, and the general situation with the 2. Bundesliga.
The HSV players trained in the winter sun on Sunday morning following their draw with FC Heidenheim the day earlier. Even though the players couldn't register their 14th win of the season, they were content to have picked up a good point and ended their run of two successive defeats. 1. FC Köln and FC St. Pauli both dropped points, and only Union Berlin won their game, so it can definitely be counted as a point gained.
Hannes Wolf spoke about...
... the 2-2 draw with FC Heidenheim: I'm on the fence with my feelings about the game. A point gained or a point dropped? Maybe both! Of course we wanted to win the game, but a draw against a good side is seen as a point gained when you go behind twice. The team's mentality was pleasing in this situation, they did it well, but overall we lacked the momentum in our attacking play. We have very exciting players on the wings and a goalscorer in Pierre-Michel Lasogga in the middle, but we haven't been using this so well recently. It's also about quantity when attacking, as you're more likely to score if you get the ball into the danger zone more times. We only got a point in the end, but that's okay because we have a lot of respect for Heidenheim's performance, and they knocked Bayer Leverkusen out of the DFB-Pokal last week.
... squad news: The situation isn't ideal, which also makes it a point gained against Heidenheim. The boys have dealt with the situation very well as a team. We don't want to argue that the squad news is an excuse, but it's impossible to argue that one or two of the players out aren't important. Aaron Hunt how important he is for the team in the Hinrunde for example, but he won't be available for Regensburg again. It's looking better with Douglas Santos, who we think will be back next weekend. Hee-chan Hwang had his first game back, and Pierre-Michel Lasogga is available again after a short time out. Gideon Jung however had a small injury after his long time out so we'll have to see, and the same with Josha Vagnoman. I'm very pleased that Go Sakai has got past his injury and can play again. The time recently with four games in two weeks has been difficult, so it's good that we can now give the team a couple of days to catch their breath before a tough away game in Regensburg.
… the league situation: We are still league leaders, but we have a lot of pressure on us. There are plenty of teams who have the quality to put together a good run of form – such as Heidenheim, Paderborn, St. Pauli, 1. FC Köln and Union Berlin. Therefore it will be tight all the way until the end, just like it has been in this league in previous seasons. It is something that the other big clubs have also had to deal with – none of them got promoted easily and we won't be able to either. We have to work hard and give it everything we've got in every game. That's why we aren't looking ahead to any specific games in Berlin or Köln – we are focusing on ourselves and taking every game as it comes. The only thing that matters to us at the moment is the next game against Regensburg. You have to give everything in every single game in the 2. Bundesliga, so that's the only way that we can be successful.