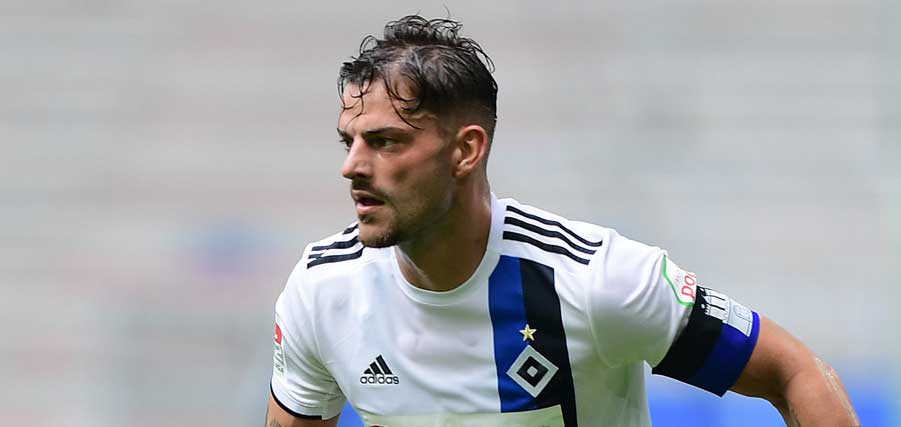 Tim Leibold anointed as new HSV captain
On Sunday, the new first team captain and his committee were chosen, as well as who will start in goal in Dresden.
HSV manager Daniel Thioune had some important announcements to make on Sunday at the first pre-match press conference of the new season, confirming the new first team captain as well as the five-man team committee. The voting from the squad for their five representatives was clear, before Thioune chose the captain from the bunch. "The distribution of votes was very clear so a difficult decision didn't have to be made." The chosen five were Tim Leibold, Klaus Gjasula, Toni Leistner, David Kinsombi and Tom Mickel.
"These five will lead our team," the manager explained, who chose Leibold as the captain, and the 26-year-old will be ably assisted by Gjasula and Leistner. "The squad and myself were on the same wavelength as to who should be in the committee," Thioune confirmed in front of the waiting journalists, also explaining why former captain Aaron Hunt won't be reprising his role. "Aaron and I have had some very good discussions and he always made it clear that he didn't need the position to lead the way. He already leads the way with his vast experience and qualities as a key player and therefore wanted to step back slightly when it came to the captaincy." The manager is very happy with the choice of the new captain: "Tim will be a good captain because his words carry weight, I was able to realise that in the past few weeks. On top of that, he has developed very well on the pitch and I want to push him further forward in his role as one of our leaders. He will do a very good job."
Thioune had also reached a decision on who will be between the sticks in Dresden, namely Daniel Heuer Fernandes. The 46-year-old didn't confirm whether that will also be the case on Friday against Fortuna Düsseldorf in the league. "We're only concentrating on Dresden at the moment, we'll look at and decide everything else afterwards," concluded Thioune.