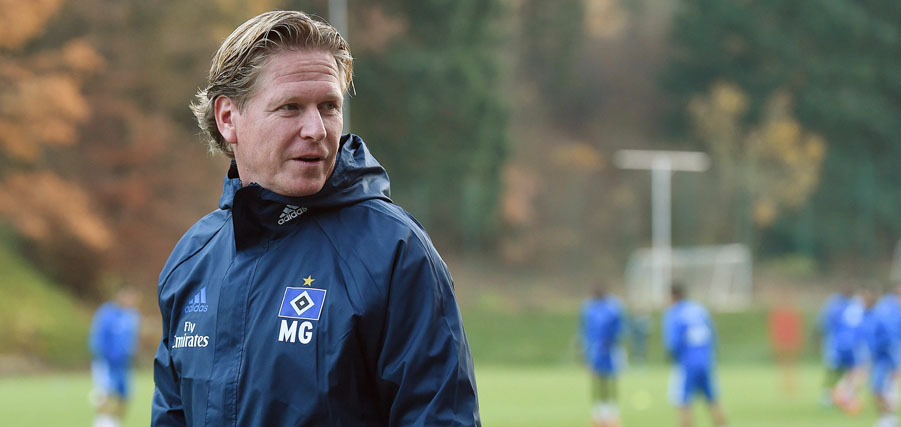 Press Conference
24.11.16
Tingling and anticipation rising daily
At the pre-match press conference ahead of the visit of arch rivals Werder Bremn to the Volksparkstadion on Saturday, Rothosen boss Markus Gisdol discussed the meaning of the game, team matters and the short training camp stay in Barsinghausen.
Not long to go now! The whole town is buzzing ahead of an impending highlight of the year – the visit of old rivals Werder Bremen to Hamburg on Saturday afternoon (26.11.16, 3.30 PM) as the teams lock horns for the 105th time with three crucial points at stake on Bundesliga matchday 12. At the moment the squad and coaching staff are at a training camp in Barsinghausen, some 170 kilometres from Hamburg. Gisdol revealed at the press conference held inside the "Niedersachsen Saal" at the hotel complex. That togetherness will be badly needed against Bremen on Saturday.
The Rothosen coach on...
... the meaning of the meeting: We are experiencing a daily increase in tingles and anticipation ahead of the game. Derbies are always special games as I experienced during my time at Hoffenheim and Schalke, but the northern derby has huge history attached to it. You cannot just turn off the constant tingling even if you wanted to. Of course we want to win and are very much looking forward to the game. Despite its attraction it is not a make or break game.
... his expectations from the game: We have to treat Werder with respect. They have a lot of quality up front and key players have recently returned to the side. We still fancy our chances for success though. We have analysed them and are preparing the team accordingly. We want to start the game in a determined way while using tunnel vision.
... team selection: Luca Waldschmidt is back, apart from that nothing has changed. So we have a chance to field the same side that played in Hoffenheim for the first time. That is a good thing. We will see what changes if any have to be made after our final two training sessions.
... the training camp in Barsinghausen: We have introduced many measures recently and the training camp is just one of them. We want to give the players a chance to grow as a team. Being together is crucial for us right now. The players are pulling their weight and showing how keen they are.