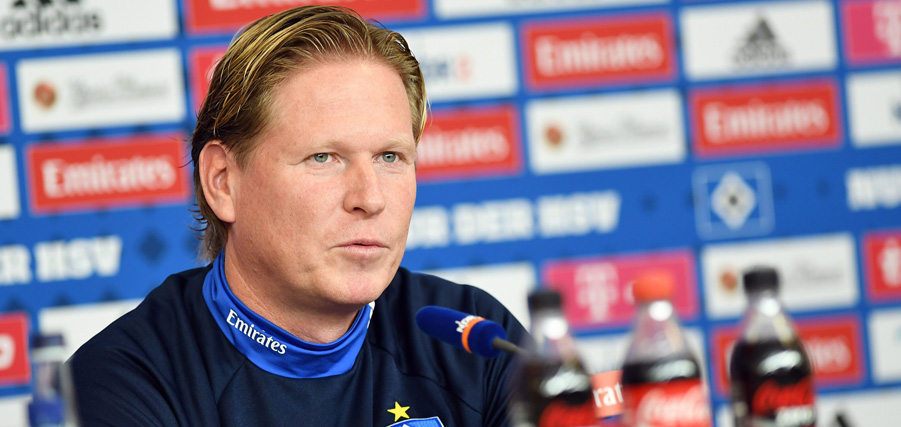 Press-Conference
16.03.17
"Tough task ahead in Frankfurt"
At the pre-match press conference ahead of HSV's trip to Eintracht Frankfurt on Bundesliga matchday 25, HSV coach Markus Gisdol spoke of team selection, his expectations from the game and the tight bond between the first team and the youth system at the club.
The press conference only lasted 11 minutes before Gisdol made his way to the training pitch for the latest session. The coach as usual is solely focused on his team and not outside influences. He told the gathered media: "We have to do a lot of things every day in order to produce our best form on the pitch. I am in no position to comment on other clubs. We are only focusing on ourselves", Gisdol said when asked about whether other clubs sliding towards the drop zone is an advantage for HSV. Everyone knows how tough the Frankfurt trip promises to be and the Rothosen approach the task with the necessary humility but also belief in their own strengths.
Gisdol on…
... team selection: We are still without Mergim Mavraj. We hope that he will resume training during the next international break. Things are looking good and going to plan. Nicolai Müller is training again but still a little weak after his bout of flu. We will take him in the squad to Frankfurt but will have to wait and see whether or not we use him.
... the Frankfurt game: We are well aware that Frankfurt have a very good team which has displayed consistency and have an almost fully fit squad to choose from. I warn anyone who will judge them on their last five Bundesliga games. It will be a very tough task there at their stadium. If we can take something home with us fro0m the game it will be a major achievement for us. I would be in the wrong job when I wouldn't be satisfied with a draw away from home in the Bundesliga.
... lessons learned from the 0-3 home defeat earlier in the season: The game was painful but at the same time very educational for us. It allowed us to fully open our eyes and analyse things exactly the way they were. It was a tough time for us with many changes but since then we are on a good path and have changed our face 100%.
... tight bond between first team and youth set up: I watched the under-21 game yesterday with my coaching staff. It is vital to maintain a close bond between the first team squad and the under-19 and under 21 teams. They offer my lads a welcome opportunity to gather match practice.
... closeness in the table: Recent weeks have revealed that some teams who surprisingly collected points have failed to consolidate that success. On the other hand other teams who failed to live up to high expectations have also gathered vital points. That has brought everything closer together in the lower regions of the Bundesliga table.