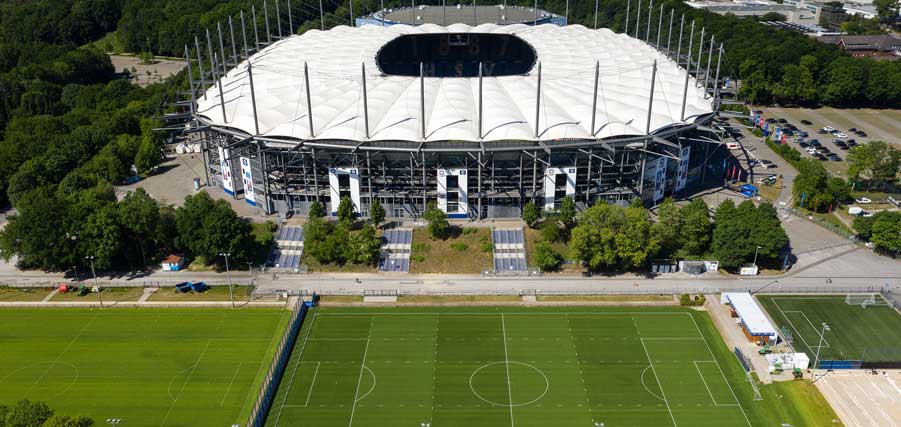 Training begins again as Terodde enters quarantine
The hygiene and testing concept ensures that HSV can begin training again. After another round of testing, all players other than the striker tested negative for coronavirus.
HSV can train again. Today at 3:00pm Daniel Thioune will run the rule over his squad again, after all members of the squad bar one, as well as the coaching and medical staff returned negative tests from the most recent set of coronavirus tests and got the green light from the health authorities. Simon Terodde, who returned a positive rapid test yesterday, is now in quarantine for 14 days after his PCR test also came back positive. "I feel a bit worn out but other than that don't have any typical symptoms and am happy that all of the other lads are healthy," said Terodde.
That the squad are able to train again and prepare for Saturday's home game against 1. FC Heidenheim (kick-off 1:00pm CET), is down to the thorough hygiene and testing concept that is undertaken by the team management and the medical department. On Monday morning (15th March) after the game against VfL Bochum, HSV proactively completed a rapid drive-in coronavirus test for all of its players, where the players, coaching staff and supervisors drove into the bus entrance at the Volksparkstadion and were tested individually in their cars before driving home. The test produced a suspected case, meaning that the afternoon training session was cancelled and the club was in communication with the health authorities. The following PCR tests, which the club is forced to undertake by the DFL, confirmed the positive result for Simon Terodde.
His teammates and coaching staff completed another drive-in rapid test on Tuesday morning, receiving the news early afternoon that all of the results were negative. Therefore Daniel Thioune and his team can now fully concentrate on the task at hand. "Compliments to our medical department and team management for the professional and proactive way they handled the whole situation," added Head of Sport Jonas Boldt.