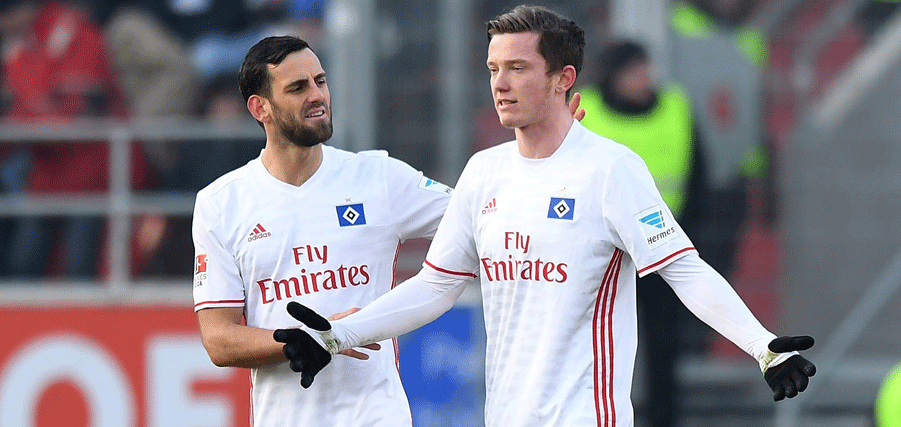 Voices for the match
28.01.17
"We must all take responsibility"
HSV lost 1-3 at FC Ingolstadt on Bundesliga matchday 18. The defeat was especially bitter because the two teams are neighbours near the bottom of the table. The Rothosen lost the plot early on and never recovered. Read here what was said after full time at the Audi Sportpark.
HSV made a decent start to the game, only to be caught cold twice before the break as two fortunate efforts saw the home side lead 2-0 at half time (14., 22.). Less than two minutes after the restart Ingolstadt scored again, this time from the penalty spot. Visiting skipper Gotoku Sakai pulled a goal back on 63 minutes with a long distance swerving thunderbolt but it was never going to be enough. HSV.de collected the following post-match reaction.
Mergim Mavraj: We lost the plot after 15 minutes and conceded the first goal which destroyed our confidence. You begin to think too much which doesn't help. Ingolstadt played long high balls which made it easier for them to defend. In the first half we failedto put into practise what our coach had wanted us to which is something you cannot do in the Bundesliga. We have to now move closer together as a team over coming weeks and be determined. We must work really hard. We have shown before that we are capable of performing better. We all have to takeresponsibility and work better as a unit. We will need such things in coming weeks.
Jens Todt: We are of course all disappointed. We saw a real relegation fight here today. Sadly Ingolstadt showed us how it is done. They were grittier and more awake than we were. It was one of the poorest showings from us this season, especially the first hour, no tonly the result but far more the performance. We are still in a dramatic predicament. We have to perform differently if we want to gather points. Nobody in our team had a lazy day it was just that the team won who wanted it more. We cannot allow that to happen. We have to discuss the bad aspects from this display.
Gotoku Sakai: Sadly we failedto add to my goal which woke us up at the time. But by then the game was already almost lost after so many misunderstadings during the first half. We struggled and then gave away a penalty momentsinto the second half. We need to learn from our mistakes and not make them again. We have a lot of gamesto play but we simply have to improve.
Markus Gisdol: We failed to get the start that we had hoped for. Beforehand we had idscussed how the gamewould have ist own character and that Ingolstadt would play long high balls. That is exactly what happened. We made plans during the break but they were thwarted by the penalty early in the second half. Ingolstadt were more awake than we were. Our first half performance cannot and will not be tolerated. It seems that the success we had in December has been misunderstood by some. Some as seemed to think that things would be fine just by us turning up. That of course is not the case. We have to deal with that attitude right away. We can only fight our wayout playing as a team and enter every tackle asif it is our last. We didn't do that today and that is why we lost.
Maik Walpurgis (FCI coach): My team played very well. They put recent results behind them and found an early way into the game today. We are glad that we got forward and scored some nice goals. We were gritty working against the ball. Leading 2-0 is not always easy so the third goal really helped. We had a slight dip after they scored but we came though well. This was a vital win for us.