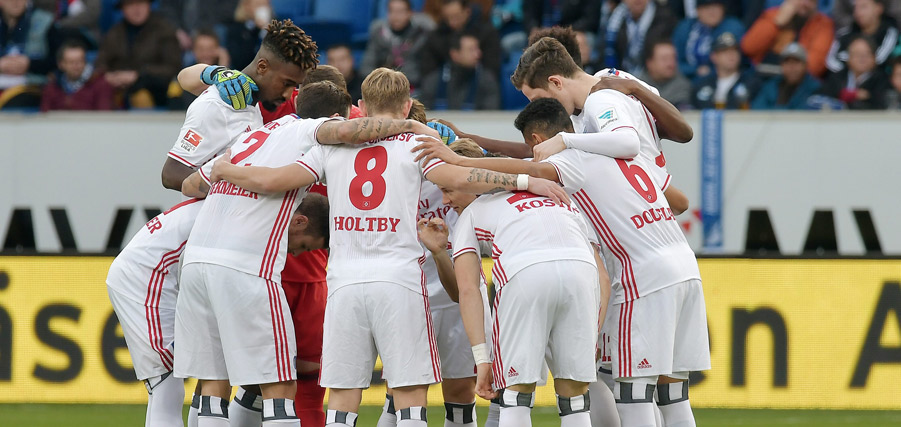 Quotes of the game
20.11.16
"We must build on the togetherness"
HSV fought hard to take a crucial point in the 2-2 draw at Hoffenheim at the weekend. Hardly surprising then that we met upbeat Rothosen men in the mixed zone after full time.
In took until matchday 11 for HSV to finally receive some reward for their hard work. Away to unbeaten TSG Hofenheim, coach Markus Gisdol's men fought tooth and nail in the face of adversity. The visitors took the lead through Filip Kostic, only to concede two sloppy goals either side of the break. To their credit HSV fought with everything they had earning a little luck on the way. Nicolai Müller grabbed a late equaliser to take a point home with them. Read here what was said.
Gotoku Sakai: We got stuck in from the off and fought back as a team whenever we suffered setbacks. A 2-2 result away to Hoffenheim is a good one for us. We discussed the current situation at length within the team and all agreed that we can only fight our way back if we work together on the pitch. Today was a small but important step for us. We have to build on it and continue working hard. It was an honour for me to lead the team out as HSV captain today.
Nicolai Müller: We produced a tight team display, getting forward as often as possible. We played well, although we rode our luck at times. But you have to earn that luck and we did. It was an even and open game for the most part so I think our point is deserved. It was crucial that we performed with courage today and that we found a way into the game after ten minutes. We have to continue performing in this frame of mind and take the good aspects with us into coming games.
Christian Mathenia: I am proud of my HSV debut, although everyone saw that I have room for improvement in my game. To take such a point in our current situation is good and important for us, even though we were always on the look out for a chance to nick the win. This time the setbacks were taken better by us and we remained gritty throughout. We must take the positives into coming games now.
Markus Gisdol: It was a very interesting game today. We spoke beforehand about performing with courage because we knew that we would have to against such a good time like Hoffenheim. We managed to do so after the start. What impressed me in particular was the way my team fought back after conceding shortly after the break. The team always comes first. We will try to maintain the togetherness from today. That is the only way we can improve our current situation.
Julian Nagelsmann (TSG Hoffenheim coach): We played well for the opening 20 minutes, creating three or four good scoring chances. Sadly we were unable to take them and after a while it begn to play on our minds. It was during that thime that HSV opened the scoring. We scored our goals after we made some minor adjustments but stopped after taking a 2-1 lead. So we only have ourselves to blame in the end but I would like to say that the way HSV played today does not match their positioning in the Bundesliga table.