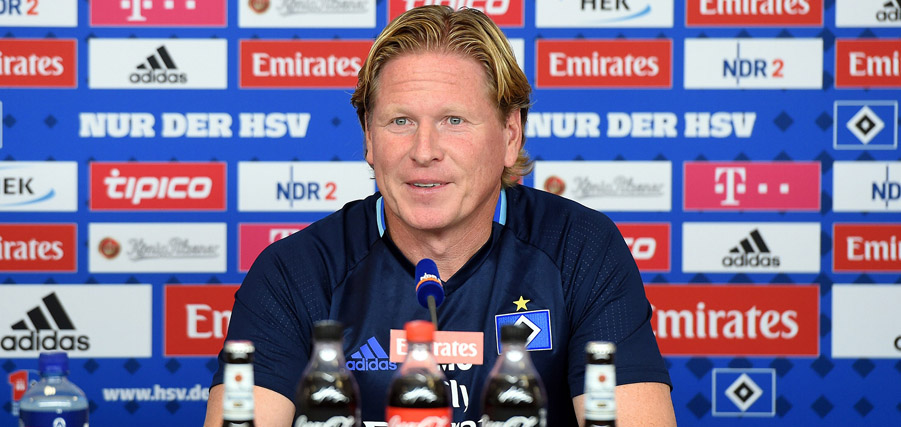 Press conference
27.10.16
"We need the pre-Gladbach feeling"
At the pre-match press conference ahead of the Bundesliga matchday 9 trip to Cologne on Sunday, HSV coach Markus Gisdol the cup win in Halle in midweek, his current selection headache and his expectations from the crucial clash at the Rhein-Energie-Stadion.
After the 4-0 cup win at Halle on Tuesday night (25.10), focus returns to the Bundesliga as the Rothosen prepare for Sunday's trip to fifth placed Cologne, who are the clear pre-match favourites. Gisdol has no time for those who suggest that his team have no chance on Sunday (30.10.16, 5.30 PM). He said: "We must travel to Cologne in the same mood we had ahead of our trip to Gladbach. That was an important factor that requires rebuilding." The new boss wants a tight team performance and that his team carry on the good work shown in Halle.
Markus Gisdol on…
… the DFB Cup win in Halle: Of course the win was important and did us good but we have to remain realistic about it. We did not perform well against Frankfurt to put it mildly. We have now discussed and analysed the game. The team showed a good reaction in Halle. The win gave us a good feeling. You could see during the game what an influence success had and we began making the right decisions again. We now have to build on that. The prize is a possible super draw in the next round. We face Cologne at home in the third round. It will be a midweek game in our own stadium. What more do you want? At home we have a good chance of reaching the next round which is super.
… selection: We really don't know who will be able to play on Sunday. I presume that Emir (Spahic) will miss out. As far as Johan (Djourou) goes, we will have to carefully calculate the risk involved. After all he is returning from a follow on injury. Albin Ekdal is a doubt after failing to train with us today. It is a good thing that the game is not until Sunday. We will have to keep an eye on it. We are stretched in the centre back position, so we will have under-21 youngster Oliver Oschkenat train with us before we leave for Cologne. Our medical team are pulling out all the stops in order to give us the best possible team to choose from.
… the game in Cologne: We need the same mood in the team that we had ahead of our game in Gladbach. It was an important factor that requires rebuilding. We will not be able to play the same team as the one in Halle. We must however not make the mistakes of making too many changes because that can open up new problems. Our defensive midfield duo did well in Halle, but it looks like we will have to do without one of them because Dennis (Diekmeier) is susp3ended. We need a right back. It is not a nice situation to be in but we must not stick our heads in the sand. We have to make the necessary compromises.
… Modeste: I know both Anthony Modeste and Marco Höger from my former coaching career. We brought Anthony to Hofenheim from France. Nobody knew him but we had seen him often. He had an up and down in Hoffenheim, so I think the move to Cologne was right for him. I am also happy when I see former players of mine realising their potential. Anthony though could have a time-out on Sunday please.