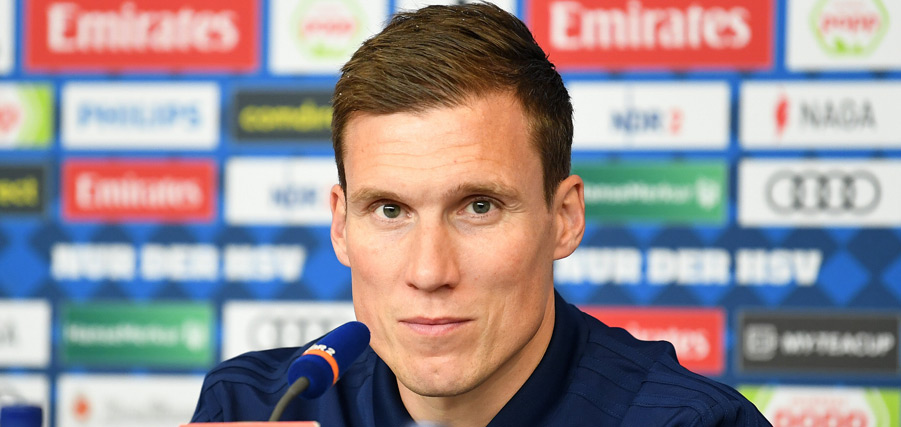 Press conference
07.04.19
"We need the right mentality and body language"
Head coach Hannes Wolf discussed squad news, balancing multiple competitions and his expectations ahead of Monday's game against 1. FC Magdeburg in today's press conference.
HSV will be hoping to carry the momentum forward from their midweek DFB-Pokal win against Paderborn (2-0) when 1. FC Magdeburg come to town on Monday night (20:30 CEST). Hannes Wolf underlined the importance of the upcoming league fixture and, in particular, our opponent's qualities – Die Rothosen must not underestimate former HSV coach Michael Oenning's side. Indeed, the narrow 1-0 home victory in the reverse fixture this season demonstrated just how close matches like this can be in the 2. Bundesliga, as did the recent defeat in Darmstadt and draw against Bochum.
HSV.de brings you all the key notes from Wolf's press conference …
... squad news: "Rick van Drongelen and Gotoku Sakai should both be available to play. Both trained today and coped well with the session. Vasilije Janjicic has a light cold and knee problem, but things are looking ok. We'll need to decide early tomorrow morning if he can play.
... the importance of the match: "We need the right mentality and body language. These things can be decisive factors, especially in the final stages of a season. We set that example and try to prepare the team so that all the players follow. You can only beat Magdeburg by winning your duels. For that you need the right mentality. For a home match on Monday, that's exactly what we expect – and consistently too."
... Kyriakos Papadopoulos' role: "We're delighted that he's fit again. He was a calming factor in Paderborn. His mentality can lift the team. We hope that he will lead the players again tomorrow. He can also play in a back four, but we'll see how exactly we play."

... balancing the DFB-Pokal and league: "It's a highlight for us to be in the cup semi-final. We've had six days off since the Paderborn game, which is basically a normal week for us. We'll invest everything into that game [in the cup] when the time comes, but for now all that matters is Magdeburg."

... impressions after 17 matches in charge at HSV: "It's too soon for me to give my assessment. I was already fully aware how difficult the league would be. We won a lot at the start, but in the Rückrunde we haven't picked up enough points. But with seven games to go, we're in a position to achieve all our goals. If you had offered us this position before, I would have accepted immediately. It's no longer important to us what happened before; we need to look forward."

... 1. FC Magdeburg's qualities: "There have been a lot of changes in Magdeburg. They have a new coach, some new players and a new system. They defend a lot from the front and make good runs in order to counter more. They were close to victories in both Heidenheim and Dresden. They have a physical playing style. Our players need to win their challenges and play football. We need to be physically prepared."