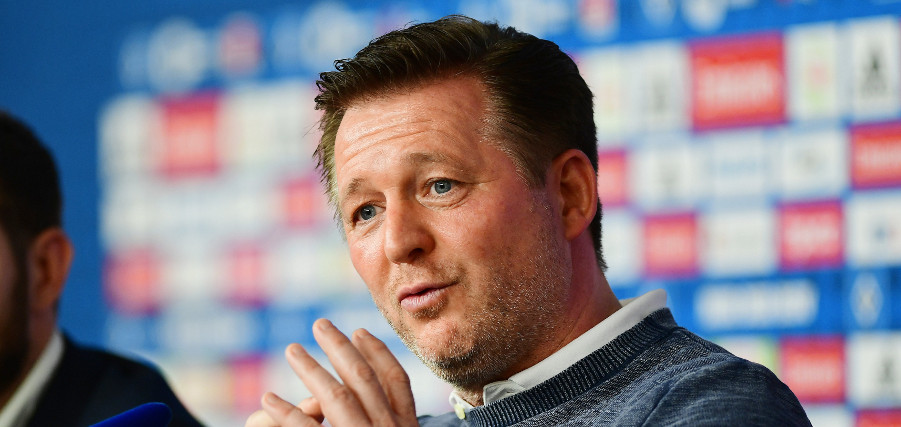 Press conference
26.04.18
"We need to give everything that we have"
Ahead of the crucial away trip to VfL Wolfsburg on Saturday, head coach Christian Titz spoke about the current personnel situation, what he's expecting from the upcoming game and the mood within the team.
After last week's 1-0 win over SC Freiburg, Hamburg have another vital game looming on Bundesliga matchday 32. If the Rothosen manage to win against VfL Wolfsburg on Saturday (kick-off: 15:30 CEST), then they will reduce the gap between themselves and the Wolves to two points with two games left to play. When asked about what the current mood within the dressing room is like, Christian Titz said: "It's good. The players are trying to remain relatively relaxed going into the game on the weekend. The boys have been feeling loose since the beginning of the week, but they're now fully focused on the task at hand."
The head coach spoke in more detail about ...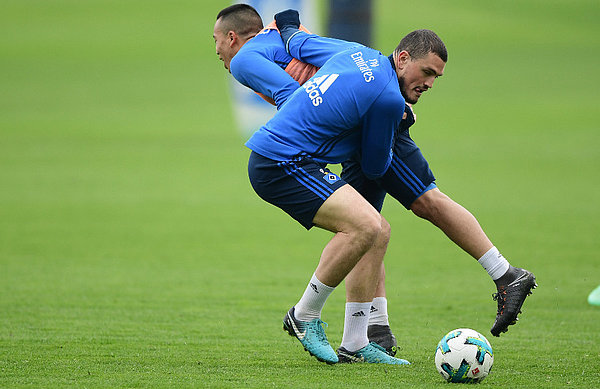 ... the squad: Papa picked up a small knock today in training, and so was treated with some ice. We were taking extra precaution with Aaron Hunt. We wanted to still let him be a part of team training though. Everything is fine with Pollersbeck.
... the current situation: I think we have a good combination of confidence and excitement going into the game. We're very happy to have the chance to still be playing in meaningful games at this point of the season. The only thing on my mind is what we need to do as a team and as a coaching staff to stay in the Bundesliga. It's important that we let our actions do the talking for us out on the pitch.
... what he's expecting from this weekend's game: I think that this will be a very physically demanding game, but it will be also be very interesting and entertaining. If we play like we did last week, then we certainly have a good chance to get some points.
...the chances of winning on Saturday: We need to play extremely well and give everything that we have. It's a 50-50 game that is hard to call. I'm looking at it a bit like a quarter-final, in which we can progress further with an important win. The performance on the day will be what decides it. We are fully focused on Wolfsburg to give ourselves the best opportunity to be successful. If we manage to put what we've been doing in training into practice, then we have a good chance to win in Wolfsburg.
...possibly naming Bobby Wood in the starting eleven: Bobby has trained well throughout the week. We're happy to have a striker in him that is hitting his stride again. It's always positive when you have multiple striking options as a coach, because it allows you to be ready for a variety of scenarios. But we obviously will only be naming our starting eleven shortly before kick-off.
...his side's get-togethers: It's a really good thing for the team to have a get-together every now and then. They give a platform for a lot of interesting conversations to take place, and the boys really enjoy coming together and strengthening their team spirit. They're really beneficial for us.