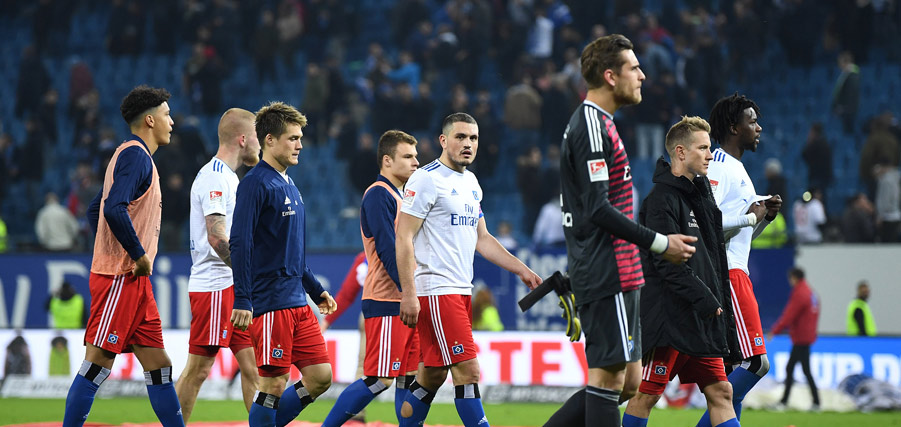 Post match reaction
08.04.19
"We need to recover quickly"
The mood was predictably grey in the HSV camp following the 2-1 defeat to Magdeburg. HSV.de brings you all the key post-match quotes.
For the second time in as many home games, HSV were beaten by a late winner at the Volksparkstadion. Just how and why the result came about on matchday 28, despite Hannes Wolf's side taking the lead in the first half, will be questioned time and again over the coming week. For now, HSV.de brings you all the reaction from a frustrating night.

Lewis Holtby: "It's difficult to find the words. It was a similar case in our last home game against Darmstadt, when we threw away a lead and propped up our opponents. Today we had two unfortunate situations in quick succession. First, the potential penalty, then the handball from Müller. It's a bitter pill to swallow. Despite that, when you're ahead you need to do a lot better going forward. We had some very good situations, but the final ball simply wasn't good enough every time. We also need to defend better as a unit so that we don't concede such easy goals. We can't keep having these results and games, or things will get very tough. We all need to take a good look at ourselves."

Hannes Wolf: "We need to be getting at least a draw. It's extremely disappointing to lose in injury time for the second time in just a few weeks. We didn't defend their goals well. We couldn't find any rhythm because of small mistakes. We need to recover from this quickly, even though it's a tough night for us all."
Michael Oenning: "I saw an unbelievably good first half from my team. The opening goal came out of nowhere. We did what we said we would do. We were bold going forward and were physical with our challenges. For that reason, nobody can take anything away from us. The bottom line is that we did more to win the game."