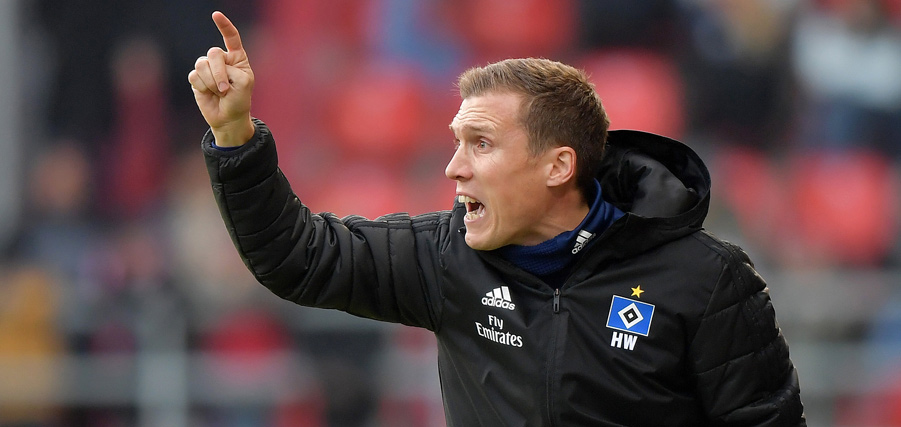 Post match reaction
01.12.18
"We need to stop making games so tense"
HSV deservedly beat bottom-of-the-table Ingolstadt 2-1 but failed to kill the game off when they had the chances which led to a nervy finale.
It was a tale of two halves in Ingolstadt as HSV controlled the the first and had the lead through an Aaron Hunt free kick in the 28th minute. The away side were also in control at the beginning of the second half and doubled their lead through Hee-chan Hwang. Fatih Kaya pulled one back for Ingolstadt almost immediately which lead to a few nervy moments at the end. The players expressed their delight at holding on to the lead after the game and stressed how important the three points were to carry on an incredible away run.
Rick van Drongelen: We controlled the game well at the beginning but Ingolstadt started to play more long balls in the second half in an attempt to hopefully get a lucky bounce and score. We managed to overcome this and get a second goal but they unfortunately scored straight away which made it tense until the end. Despite this, we defended well and held on, unlike the last game. These three points are just as important as those against Köln because we need to pick up as many points as possible.
Aaron Hunt: Everyone from the outside thought this game would be simple as it is was the league leaders against the team bottom of the table. We knew it would not be so simple. We played well in the first half but we probably should have been leading by more. We had the 2-0 lead early in the second half but unfortunately conceded shortly after. After we conceded it was a bit like we had forgotten how to play football. We need to be calmer on the ball and not be forced into playing so many long passes. We will work on it and improve.
Hannes Wolf: It was a close game, just as we had expected. Ingolstadt pressed us high in the second half and won a lot of their tackles. We are happy to have won another away game. The difference between this game and the one on Monday, was that today Polle managed to pull off a brilliant save in added time. We need to keep working so that we do not make it a tense game at the end when we are leading.