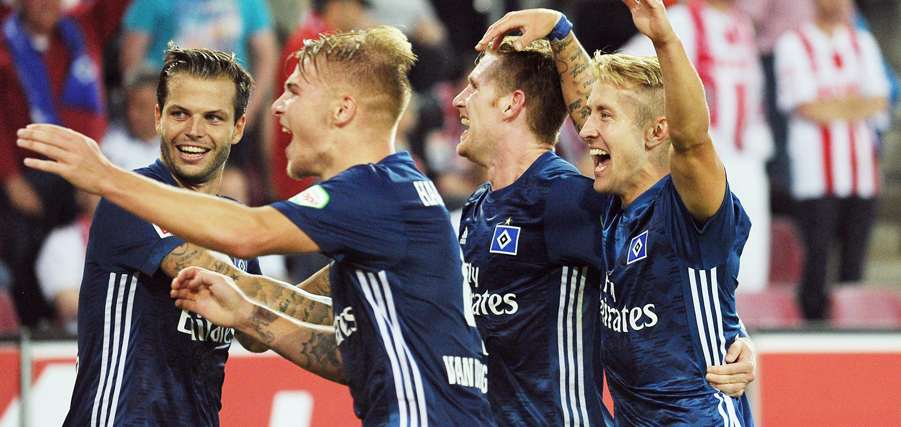 Post match reactions
26.08.17
"We played great!"
Passion and drive saw the Rothosen beat Cologne 3-1 away from home on Friday night. HSV.de met delighted players and the coach after the game but while everyone was understandably euphoric, they remained realistic.
What a game in Cologne. HSV took a two goal first half lead through Andre Hahn and Bobby Wood, before match referee Dr. Felix Brych was forced off through injury at the start of the second half. After the ten minute break for the injury to the ref, his replacement Sören Storks needed only 30 seconds to send off Hamburg captain for the night Mergim Mavraj for a second yellow card. The Rothosen gave their all fighting hard with a man less on the pitch. They conceded a goal through Cologne's Sörensen in the seventh minute of what was fourteen minutes of time added on at the end of the game. The sold out Rhein-Energie Stadion (50,000) was at boiling point but was almost silenced as Albin Ekdal found Lewis Holtby during a counter attack and the popular HSV midfield battler easily netted to make the final score 3-1 to the visitors. An amazing game to say the least. HSV.de collected the following reaction after the full time whistle had sounded.
Andre Hahn: We playeed great. We fought hard and displayed a strong mentality and character. Nobody expected us to make such a successful start to the season aside from ourselves of course. Time for some positive headlines. It wwas awful what happened after we lost in Osnabrück and evenb after we beat Augsburg last week. I hope that we were able to answer our critics and that they have quietened down. Personally I am of course delighted with my first goal for HSV. The ball came perfectly to me and I jnew I had struck it well as it left my boot. The celebration was for my family who are on my right arm in the form of a tattoo which I kiss whenever I score and before I go onto the pitch.
Christian Mathenia: I am proud of every one of the lads. It was great the way they sacrificed for each other. We can enjoy topping the Bundesliga table but must remain realistic and know the true value of things. We saw last season how important a good start to a new season is and nobody can take these six points away from us. If we can carry on fighting hard for each other it could be the start of a journey for us.
Filip Kostic: It is a great feeling to win two straight games. It is nice to top the table but we must carry on and remain calm and focused. I worked very hard on myself and wanted to be in good shape on my return from injury. I worked in the gym a lot and on cardio stuff. That paid off even though I am still only at around 90%. The harmony between Andre, Bobby and I is working well. We are all quick players and can close defensive gaps quickly together. It is a shame that I didn't manage to score. I had a good chance but to be honest after 90 minutes I was shattered (laughs).
Albin Ekdal: I ran and ran and ran but didn't see anyone until Lewis showed up and I played the ball to him. I know I can be quick and gave my all. Despite being delighted to win we were poor in the first half. We were lucky to score twice. After the break we defended well and mounted decisive counter attacks. Communication with Walace in defensive midfield is ever improving. It was tough for him to come here from Brazilian football where the game is so different and much quicker. He is settling in well.
Dennis Diekmeier: The awful week we experienced after the DFB Cup first round exit brought us closer together. We wanted to play to the strengths we had last season – absolute togetherness and the will to fight until the bitter end. The coaching staff drilled that into us at around matchday 10 at the time, and it worked for us again tonight. Everyone fought for each other in what was a great team performance. My record of being the outfield player never to have scored in so many games will surely get me some attention on the likes of WhatsApp, but I'm sure there will also be a picture of us at the top of the table too. I am delighted for all of our scorers here tonight. I'm especially delighted for Lewis who always gives everything he has for the team and never lets things get him down.
Markus Gisdol: Of course we are over the moon at winning in Cologne on matchday two. Before hand you think if all goes well we can come away with a points and when things go perfectly even three. Cologne dominated the first half but we were more efficient. The two goal lead was of course just what we needed. After the long injury break for the referee injury it was tough for us because we went a man down and Cologne played well. But my team ran and fought their hearts out in what was a superb performance. On the balance of play Cologne deserved to score because we defended poorly at that moment. It is nice to go into the international break on six points. We didn't expect that beforehand.
Peter Stöger (Cologne head coach): First of all congratulations to HSV. We tried hard to control the game. We made scoring far too easy for them. I don't want to say that we didn't try to put into practice what we had planned to beforehand. The ideas and will were there. But we allowed them to score too easily which is why HSV deserved their victory.