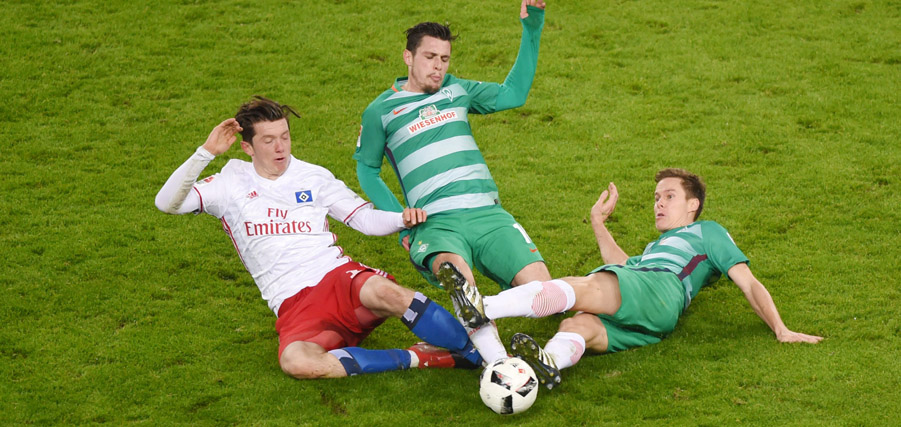 Voices for the Match
26.11.16
"We showed lots of heart and passion"
The eagerly-awaited northern derby on Bundesliga matchday 12 ended in a 2-2 draw after a hard fought tussle at the Volksparkstadion in Hamburg on Saturday afternoon. Despite performing well, the Rothosen still haven't a league win to their name so far this season. The following was said after the game had ended.
The 55,237-strong crowd had gone home and the Volksparkstadion became quiet after a dramatic afternoon which had seen HSV draw 2-2 at home to old rivals Werder Bremen. Nobody was sure how to take the result. On the one hand HSV were so keen to grab their first league win of the season but failed to do so, so the result was anything but satisfactory. On the other the Rothosen left everything they had on the pitch and as was the case away to Hoffenheim last week, showed a marked improvement. HSV.de caught up to the protagonists after the game. They had the following to say.
Michael Gregoritsch: My mood is somewhere between joy and frustration. We gave everything we had over the 90 minutes and everyone saw that we are still very much alive. That was important! We showed a lot of heart and passion and I think that if we can carry on like that we will collect points over coming weeks. We have moved closer together as a team. The training camp was good. We had a lot of fun and moved closer together. I am delighted that I was able to score a brace today. I have been a striker for 15 years and often had to play out of position like at Bochum or here in Hamburg. I feel more at home up front. That is the position I've played since I was a kid.
Matthias Ostrzolek: We hoped for more, especially because of how the game went. The things we have to wiork on are tiny. We conceded far too easily today. That should never happen. The performance today and the one in Hoffenheim last week give us hope. We will continue to carry on giving our all for the rest of the year, collect as many points as possible in order to go into the winter break on a positive and lay a foundation for the second half of the season. I know these kind of situations from my time in Augsburg. We only had eight points after the first half of the season but still stayed up. I know we can do it and am very optimistic about it. To do it we must perform closer as a team. At the moment everyone is fighting for each other.
Gotoku Sakai: We played well on the whole and like in Hoffenheim were aggressive and brave going forward. We squandered chances during the last tem minutes. We so wanted to win. It is a shame that we didn't take three points today so we cannot be satisfied. We have to carry on performing they way we have done in our last two games. We came back well after setbacks. We made too many mistakes today.
Markus Gisdol: It was clear to see that we had plans for the game. It was one of our best attacking showings in the first half, but we allowed them too much space to counter attack us. Sadly we could maintain our lead until the break and by the time the second half began Bremen had adapted to us. I am unhappy with the result but happy with the performance of the team who so wanted to win the game. We are making progress going forward. The season is still long and the lest two games have made me much more positive. If we carry on playing like we are we will win points.
Alexander Nouri (Werder Bremen coach): We saw everything that is typical for a derby: high intensity and lots of passion. We didn't start well but showed plenty of spirit to fight back to parity twice and even hand good further chances through Bartels and Bauer. Because of how the second half went the result is about right.