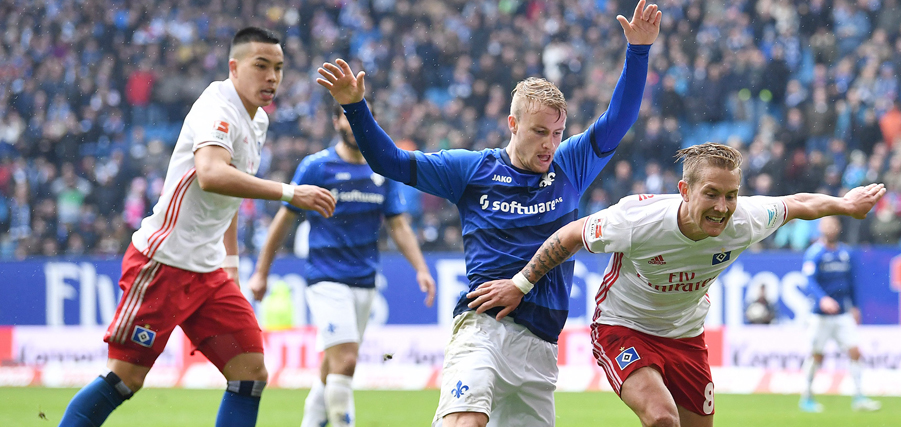 Post match reaction
22.04.17
"We simply played poorly today"
HSV lost 1-2 at home to bottom placed Darmstadt 98 on Saturday afternoon. We spoke to the disappointed protagonists after the final whistle had been blown.
HSV were unable to extend their fine nine game unbeaten home run on Bundesliga matchday 30. The run was ended by rock bottom side Darmstadt, who until kick off had failed to collect a single away point this season. HSV.de spoke to those involved in the mixed zone inside the Volksparkstadion in Hamburg. Many reasons were offered for the defeat. Read here what was said.
Lewis Holtby: We conceded two unnecessrary goals while failing to put away our won chances. We simply played poorly today. We were unable to force our luck. I don't want to paint over anything. We are self-critical and must analyse and stop the mistakes we are making. On the other hand it will take much more than this to make me give up. That wouldn't help anyone. Augsburg has now become an all or nothing game and we know how tough things will be there. We have to remain cool and show mental strength.
Aaron Hunt: We didn't underestimate our opponents – how could we in the precarious situation we are in? We didn't create the pressure we had planned to. We hardly created any scoring chances and then leaked two silly goals. There are ways to crack a massed defence but we could not find the answer today. The one positive from it all is that our position in the table has not changed. We still have our destiny in our own hands and need to clear our minds of what happened today as soon as possible regardless of how that is to do right now.
Christian Mathenia: We planed to put Darmstadt under constant pressure, which we only sporadically did in the first half. We made a poor start to the second half and it cost us the game. I know I speak for the whoile team when I say that nobody underestimated Darmstadt – especially since they had recently beaten Schalke. We failed to match their awful playing style with our own. In Augsburg we are right in the middle of a full on relegation battle. We have to unite with the club and all the fans as we search for crucial points. We can only do it together.
Jens Todt: It goes without saying that we are not satisfied with our performance. It was a scrappy game during which all 50/50 situations went against us. We were also denied a clear penalty before the first goal was scored. That could have completely changed the way the game turned out. But that is not an excuse. Darmstadt fought hard for their victory. There was a lot at stake today and we failed to cope.
"We were simply poor today and failed to cope with the situation." Markus Gisdol
Markus Gisdol: It was as expected a tough game against a team enjoying a recent upturn in form. We struggled to get into the game, made bad decisions and seemed to be mentally lamed. It was a game which could have ended goalless, but we were impatient and poorly defended the set piece which produced the first goal. We failed to put any of our own chances away and were denied a penalty for the challenge on Jung. On the whole though I have to say that we were simply poor today and failed to cope with the situation. We must and will discuss the matter. We still have things in our own hands.
Torsten Frings (Darmstadt coach): We are delighted to win here today – especially against HSV, who were on a great home run. We made a plan to repel HSV's constant pressing game and we kept them out. Things might not look good ofr us but we can still affect things around us. We will not give anything away. I take my hat off to my team for the way they deal with our situation. There is still so much fire during training and everyone is giving their all.