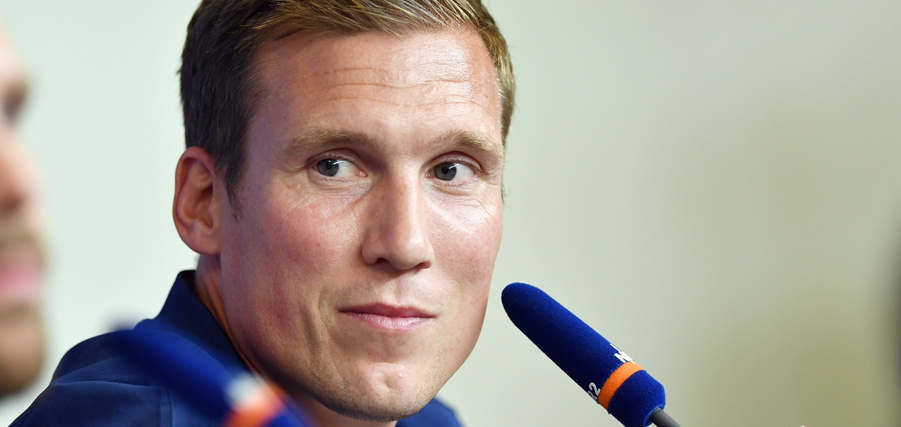 Press conference
04.11.18
We want to establish our place at the top of the table
In his press conference ahead of tomorrow's home clash with 1. FC Köln, Hamburger SV head coach Hannes Wolf spoke about injury updates, his side's opponents and the duel between Simon Terodde and Pierre-Michel Lasogga to be top scorer in the 2. Bundesliga.
Slowly and steadily, the excitement is building. Over 50,000 fans are expected to travel to the Volksparkstadion for the 2. Bundesliga top of the table clash between HSV and 1. FC Köln. "It will be a superb match on a stage that no other match tomorrow will be able to rival," said Hannes Wolf in his press conference on Sunday ahead of the clash.
The top of the table clash will also be a home debut for HSV's new head coach. Before his team take to the pitch, his focus is fully on preparations for the upcoming 90 minutes of action. For this reason, the suspense will continue to grow right up until the final squad announcement tomorrow. "It is a very long day. If you go into the hotel right now, I am not sure whether or not you will have enough energy to give on the pitch. There is never a wrong or a right but we have decided that the boys will sleep at home tonight and we will meet tomorrow to go to the hotel," said Wolf as his gave some details for his preparations tonight and tomorrow.
In further detail, the HSV coach spoke about …
… injury updates: Hwang had a few days off but returned to training yesterday. He took part in training today, which involved sprinting and shooting. He trained well and is back to full fitness. Janjicic has fallen ill so he is a doubt for tomorrow's game. We will decide tomorrow whether he is fit enough to be included in the squad.
… the upcoming game: Both teams like to attack. Pressing will be an important factor in who wins the game. There will be moments in the game in which we will be under the cosh and we need to defend well. There could be occasions when our defence is under pressure. On the other hand, there will be phases where we will put Köln under pressure. We have to give our all and take our chances when they are presented to us.
… the opponents: They are a good team but we have a great chance to get the win. We will need to be at our best. We have respect for the opponents but we also know that we can win the game, which is a good mindset to have.
… tomorrow's match as a special occasion: It will be a super match on a level that no other match tomorrow will be able to rival. There is something to gain from a strong performance tomorrow but not lots to lose. We want to establish our place at the top of the table, make full use of the occasion and experience to attempt to make tomorrow night very special.
… goalscorers Lasogga and Terrode: I got to know Simon well in Stuttgart. I have good memories there. He and Pierre are both great strikers who play on the last man and win long balls but are dangerous in the box. They both have the knack of scoring goals as well as the presence and strength to get on the end of balls into the box. They are, however, both players who need service because they score goals with either one or two touches. There is a reliance on the rest of the players to set them up but the whole team must not be totally orientated around them.
… his home debut: I am mainly concentrating on the game. I will try to help the team and give everything to win the game. I cannot enjoy the game as a fan as I need to influence my players. We need to create a good atmosphere and have lots of energy in order to win the game tomorrow.