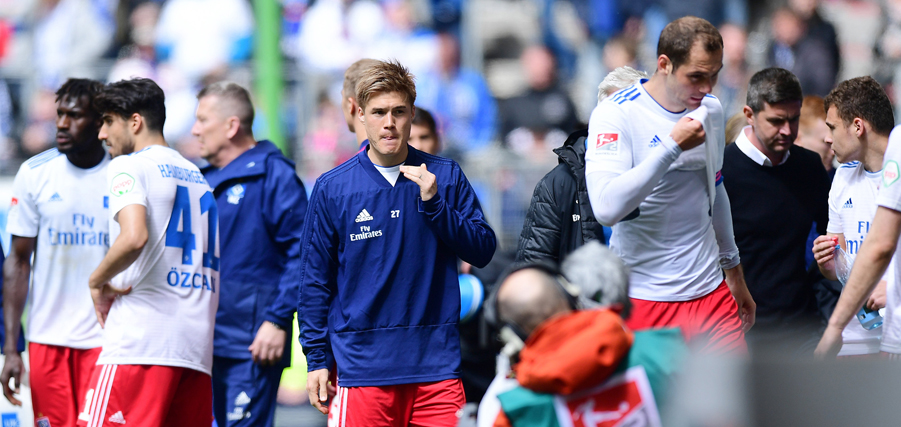 "We were simply poor"
HSV suffered a 3-0 defeat at the hands of FC Ingolstadt 04 on Matchday 32. The players were accordingly disappointed at full time.
Lots put in but nothing to show for it – after an intense three day training camp in Rotenburg, HSV faced Ingolstadt at the Volksparkstadion but fell to a heavy 3-0 defeat. After a performance in which the team were poor over long stretches, the players were understandably frustrated and disappointed after the game. HSV.de has the post match reaction.
Gotoku Sakai: We gave nothing. We went behind early on and after that, we tried to put the pressure on but we were lacking the final phase. In the second half we lost every second ball and had no attack. We had no tempo going forwards. We were simply poor. We tried to carry on playing and often had the ball in the final third but the final pass didn't come, and we couldn't get through. We are completely responsible for the fans' low spirits. When we play the way we did in front of our own fans in such an important game, I can fully understand their frustration. They supported us one hundred percent until the second goal, but after such a game you can understand the reaction. However, we still have two games remaining, and every game is different. You can't write off promotion - we can't just simply give up.
Ralf Becker: It was a disappointing afternoon. We had been preparing intensively since Wednesday and I had a good feeling. But when you lose 3-0, of course you are not pleased. There's no sugar coating the situation. The young team is not coping very well with the pressure at the moment. We will go away, discuss the game and work on it.
Hannes Wolf: We went behind after the first counter attack of the game, even though we were actually doing well in that play. After that, we tightened up. We got into good areas and had a lot of plays in the final third, but didn't create enough chances to score. At half time we got it together. After the second goal it became very difficult. I can understand the discontent of the fans; it was important that we faced them after full time. It is now our responsibility to have a better game against Paderborn in 8 days.
Tomas Oral: We are happy and proud of the victory. Despite everything, you just have to take the success and keep going. HSV were really up for the game. I was unhappy with my team at certain points because we were sitting too deep. Luckily for us, they often made the wrong decisions in the final third. The longer the game went on, the better it became for us. We knew that the atmosphere in the stadium could tip it. Therefore, we had to stay humble. I wish HSV all the best.