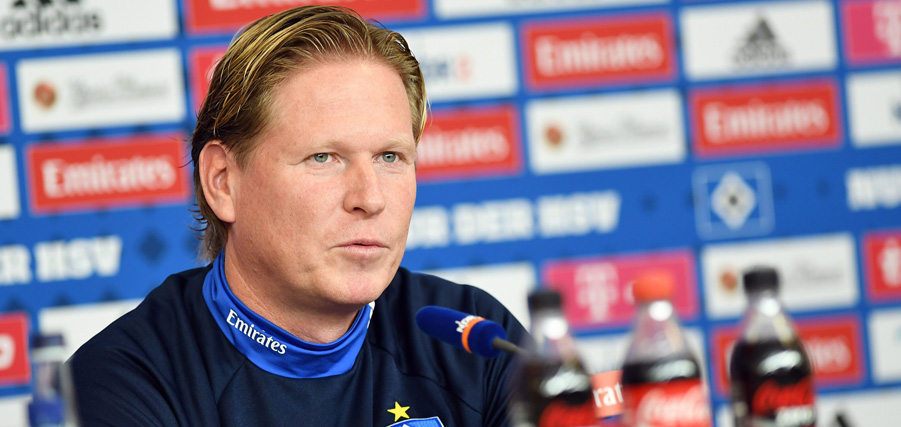 Press conference
06.04.17
"We will find our own recipe for success"
At the official pre-match conference ahead of the Bundesliga matchday 28 home game against in-form Hoffenheim HSV coach Markus Gisdol discussed team selection, his expectations from the game and the relegation situation in Germany's top flight.
The much-anticipated clash between HSV and TSG 1899 Hoffenheim at the Volksparkstadion in Hamburg on Saturday afternoon (08.04.17, 3.30 PM) is HSV's third match in quick succession. It began with a 2-1 home win over Cologne followed by the 1-2 defeat at Dortmund last time out. The Volksparkstadion hosts the team of the hour – the recent Bayern conquerors are in sparkling form and HSV`s fine eight game unbeaten home (6 wins two draws) run is certainly in danger. The visitors under their young coach Julian Nagelsmann (30) have won four of their last five league matches including the superb 1-0 win over title favourites Bayern Munich last time out.
Markus Gisdol on…
... team selection: Sadly we are quite stretched at the moment. Albin Ekdal sustained a painful muscular injury in Dortmund. It is unlikely that either Gideon Jung or Johan Djoruou will feature this weekend. We hope they will return next week. I am however optimistic regarding the chances of Rene Adler and Kyriakos Papadopoulos. We have two valuable training days to test them. I think they will be okay.
... lack of fit defenders: During the winter break we signed Gideon Jung and Albin Ekdal to cover those positions. Them not being available creates a special situation for us. Walace has not played in that position very often but he could prove useful by the way he plays. Ashton Götz has played in central defence many times in training games. If we have to we can use utility duo Matthias Ostrzolek and Gotoku Sakai. But I don't want to be too negative and hope that we will have a seasoned pro in that position on Saturday.
... his expectations from the game: We have often shown that we can play well at home. But we are well aware that Hoffenheim are an excellent side. A lot has changed at both clubs since the teams met in Hoffenheim on matchday 11 (2-2). Hoffenheim have become a top team who play great football. They are tough to crack and many teams have tried different things in an effort to beat them and failed. We will find our own recipe for success in order to pose problems for them. We have a plan but of course I will not reveal it here.
... Hoffenheim coach Julian Nagelsmann: I was not as mature as him when I was his age. Hats off to him for the way he does things. He jumped in at the deep end as a fledgling coach and has thrived. I wrote to him after they beat Hertha BSC. Hoffenheim impressed in that game and I told him that. They played superbly and thoroughly deserved to win. Last week the beat Bayern.
... Bundesliga relegation battle: It would be a waste of time to watch the games played by our competition and have fingers permanently crossed. We cannot influence their games anyway. So I don't, preferring to only focus on ourselves and the things we can influence. That is why I usually watch the games our next opponents.