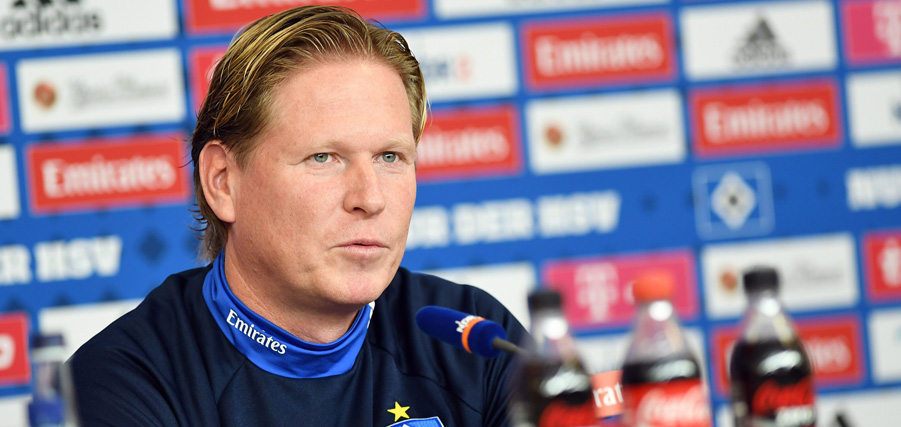 Press conference
10.03.17
"We will try everything to end their run"
At the press conference ahead of HSV's Bundesliga matchday 24 home clash against Borussia Mönchengladbach on Sunday (12.03.17, 5.30 PM), home coach Markus Gisdol discussed team matters and Gladbach – the team of the hour.
The home game against HSV's DFB Cup conquerors Borussia Mönchengladbach on Sunday marks the end of what has already been an eventful week in football. The historic 6-1 Barcelona win over PSG was on Markus Gisdol's viewing list as was of course Gladbach's 1-1 Europa League draw2 with fellow Bundesliga side Schalke on Thursday night. Hamburg's 47 year old coach told the gathered media at the Volksparkstadion: "The Barcelona game was a good example of how tight things can get in our sport. Barcelona coach Enrique was three minutes away from being a laughing stock than a hero. Personally I am delighted for him. It was of course very bitter for Paris though. Such comebacks make our sport great." On Gladbach's draw with Schalke he said: "Of course I watched the game in Gladbach. They are in good shape right now and I think had a bit of luck on their side. But that happens when you are on such a good run."
Markus Gisdol on…
… team matters: Things are looking tight for Nicolai Müller who is recovering from a cold and has been unable to train withg the team yet. We will have to wait and see. Mergim Mavraj is of course still out and we have a lot of alternatives. When picking a man for a certain position it comes down to form and the tactical set up of the opposition.
... the Gladbach game: Gladbach are in good shape and are on a good run. They have Champions League quality in their squad, can replace people without a problem and have developed a good playing style over recent years. We however took a lot from their DFB Cup win over us and will adjust accordingly. We will try everything to end their run.
… playing last on a matchday: We have of course discussed the situation and have decided that the bast was to go about things is to assume that all teams around us will win their games. We however must focus on ourselves in order to influence the only thing we can.
… team spirit: Team spirit is vital to a team and the work done during the week. It is nothing new but still took time to develop. The team get on well with each other. The players enjoy mutual respect, have fun and are able to fully focus during training. It is great to see smiles on faces during training. It is part of it but we do not forget the serious side to things. That is a positive aspect we intend maintaining.
… his contract situation: Such things should not be discussed in public because I think that they can distract us from the job at hand. I ask you to respect that. I abide by our internal agreement. When there is news on that front it will be announced. Our main focus is on the players and the work we do with them. Nothing has changed there in recent weeks.