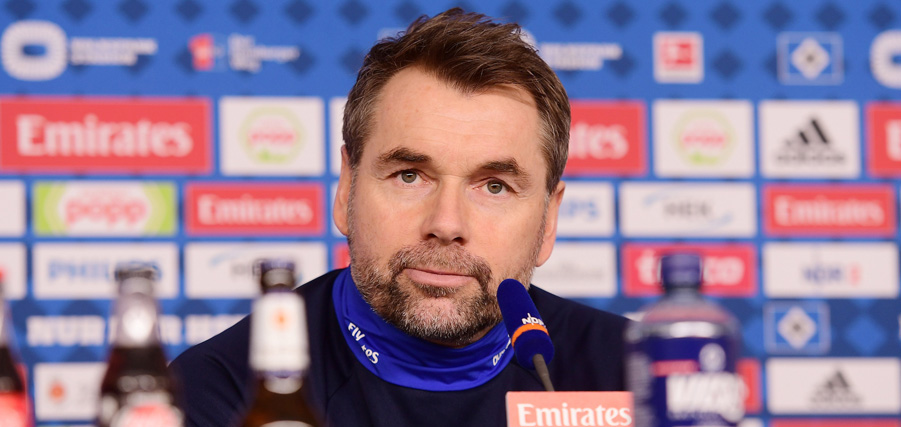 Press Conference
25.01.18
"We'll step onto that pitch as one!"
In the press conference ahead of Saturday's trip to RB Leipzig, HSV head coach, Bernd Hollerbach, spoke about the squad's condition, Walace's situation and the upcoming clash with last season's runners up.
On Saturday, Hamburger SV go on their travels to take on last season's runner-up RB Leipzig. It will be Bernd Hollerbach's first time in charge of the Rothosen and the 48-year-old's first Bundesliga match as a head coach. Consequently, there was a lot of media interest in the pre-match conference ahead of matchday 20. The Würzburg born coach started off proceedings by wishing fellow coach Jeff Strasser well after he was rushed to hospital yesterday mid-way through 1. FC Kaiserslautern's match against SV Darmstadt 98 which was then cancelled. "I'd like to wish my colleague Jeff Strasser a speedy recovery and I hope he gets well soon and can get back to the training pitch," said Hollerbach.
The new HSV head coach had the following to say on…
… the squad's state of affairs: I'm impressed with the team. Everyone is working hard and wants to prove themselves. Training was positive – no one hid, everyone wants the ball. Anyone can have a bad day but what's more important is proving yourself and getting over it. That's the impression I have of the team so far. I hope we can demonstrate that on Saturday in Leipzig and put in a good performance as a team.
… the goal drought: You just have to look at the table to realise we need to improve in all areas of the pitch. Our problem is conceding too many goals as much as not scoring them. We know we have to work on that and are doing so. I'm sure we'll pick up.
… his expectations for the game: Leipzig are a very strong side, You have to be on your toes – especially in the middle of the park as they can pounce on you. We have a plan and we'll see how it goes on Saturday. Of course it'll be challenging to take any points against such a tough team but there's always a chance.
… Walace's situation: Recently, he's not been enjoying his time here for private reasons. His wife is heavily pregnant. We had a good chat and he said he'd like to leave. I expected that – like I would from any other player. What I've seen of him this week has been very positive. I don't have any reservations about playing him. He's someone who can help the team and is an important part of the side.
… the anticipation ahead of his Bundesliga debut: I've had a few games in the Bundesliga as an assistant head coach so I've been out on the touchline before. I'm always excited before games regardless of the occasion or the competition it's in. I'm looking forward to getting going and then Sunday we can reflect. Currently, everything is looking fine.
… his first days as HSV head coach: I've acclimatised quite quickly as I played for the club for a long time. I still recognise lots of faces here and it's amazing to be able to return. As I said on Monday, I'm very thankful for what HSV have done for me and now I want to give something back. It's a great feeling but I'm aware of the responsibility resting on my shoulders.