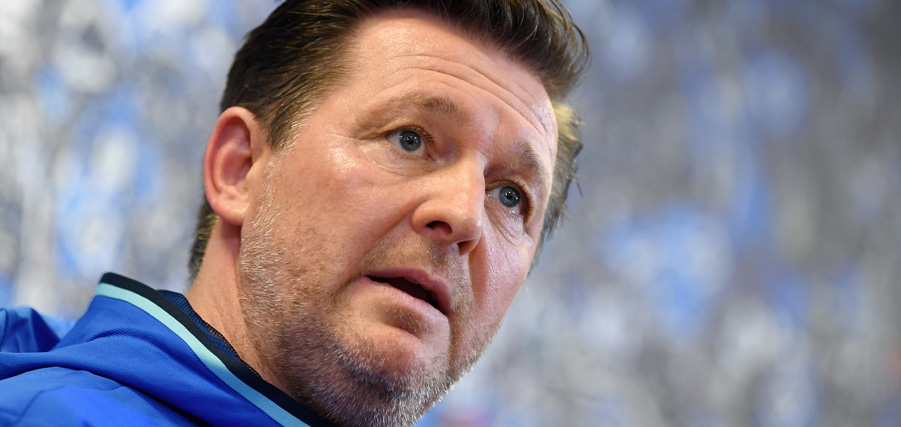 Press conference
05.04.18
"We're not afraid to win ugly"
In the press conference ahead of the home game against Schalke 04 on Saturday, head coach Christian Titz spoke about the current personnel situation, the development of the young players in the squad and what he's looking to get out of the game against the Bundesliga's second placed side.
Despite the current standings and the poor results over the last six matchdays, HSV are not letting up in their push for top flight survival. In order to maintain the team camaraderie and also apologise for his inflammatory comments after the game against Hertha, Kyriakos Papadopoulos invited players and members of the coaching staff to an evening at a Greek restaurant on Wednesday (4th April). "It was a very successful evening. What I thought was particularly notable was that he also invited the team to a similar event if we win against Schalke," said Christian Titz in the press conference ahead of the clash with Schalke 04 on Saturday evening (7th April, 18:30 CEST).
Titz also gave his thoughts on...
... the squad: Rick van Drongelen trained without problems yesterday and impressed. We still have to wait and see with Douglas Santos. After a further examination we'll decide whether he can join up with the rest of the team in training or whether he needs a few more days.
... the sort of game he's expecting on Saturday: It'll be a game in which we need our supporters to act like the twelfth man on the pitch. Schalke are a very hard-working side who are disciplined in defence and play with a lot of pace and aggression. We have to be ready for that. It will be a battle of attrition. We will need to have a very good day at the office and play with discipline while remaining concentrated on the task at hand for the full duration of the game.
... the young players: They're getting used to first team training more and more and are growing in confidence. It's not unusual for them. When you initially come up to the highest level, the mental adjustment is a challenge for the youngsters sometimes. You can see how they're getting more and more comfortable, however. They feel as though they're a part of the team. So I'm hoping that will translate to consistently improved performances out on the pitch.
... Domenico Tedesco's work at Schalke: He's played a big part in their season so far. You can tell that his fingerprints are all over they're success. They play with a distinct back-three and two flexible wing-backs, as well as an attacking trio who can hurt you in a variety of ways. They also play with great discipline in general. Going forward, they have multiple players who have individual skill and ability. They are always threats to score.
... the pressure of having to get points: There's a lot of tension when you go into every game knowing that you have to win to stay up. We're trying to deal with that in a variety of ways. We want to relax the players as much as possible during the week and give them the tools to be successful when we play on the weekends.
... the keys to a good performance: There are two things that I look for. I ideally want to win and play a good brand of football. But I am aware that the only thing that matters in our situation are results. I would be very glad if we played well on Saturday and also won, but if we have to play ugly to win, then so be it. We're prepared to do whatever it takes.
... the competition in the relegation battle: It will be impossible to avoid knowing the results of the other games before we play on Saturday. But with all respect to my contemporaries in charge of our rivals right now, we obviously are hoping that they slip up and allow us to claw a little bit closer with a win against Schalke.