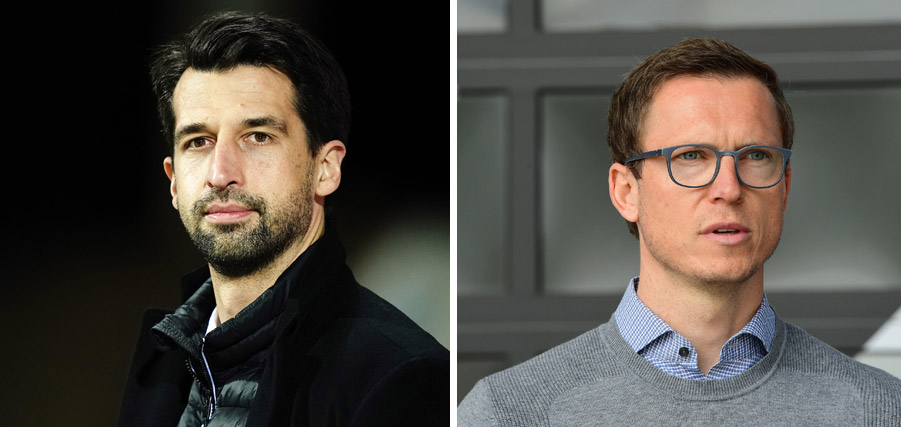 Post Match Report
30.04.21
"Not sugarcoating things, but also not giving up"
The day after the 1-1 draw against Karlsruher SC, HSV's head of sport Jonas Boldt and sporting director Michael Mutzel spoke to the media about various topics concerning the Rothosen.
While the players took part in training exercises the day after the 1-1 draw against Karlsruher SC, HSV's head of sport Jonas Boldt and sporting director Michael Mutzel faced the media and answered questions about the current sporting situation at the club.
Jonas Boldt spoke in detail about…
...the sporting situation: We made a conscious decision last summer to pursue a path that hadn't always been chosen in the past. We planned conservatively, were able to generate surpluses through our transfers and, despite the Coronavirus pandemic, our financial situation isn't as precarious as some other clubs. Of course being promoted would help, especially in terms of the TV revenues. That's why we're very disappointed when looking at the latest string of results. However, the path we've chosen together means that things won't fall apart if we aren't promoted. Of course I don't want to sugarcoat anything, as the season isn't over yet. We're not going to give up.
...the culture of the club: We made a decision last summer to go down the path of development. That starts with me as head of sport and continues down throughout the entire club. However, it's not possible to implement a culture change overnight. If we remain calm, then we will be successful in the long run. I'm convinced of that.
Michael Mutzel on…
...the draw against Karlsruhe: When we scored, I had the feeling that we really needed that. Conceding the equaliser immediately after was a tough blow to take. We looked unsettled afterwards and were unable to win the game. Some players were trying too hard, which meant that we were lacking the ease that we had displayed earlier in the season. Of course your mentality will influence the game. We've seen this season how well the team can work in attack and in defence, but we just haven't been able to bring that same quality to the pitch of late.
...the table: If we don't win our games, then there's no point in looking at the other results. Everyone can beat everyone in this league, and there are no easy games to be had. The most important thing is that we're able to be successful in our games. We have three games left to do that. We will need to make sure our heads are right as of Monday and that we're ready to attack.