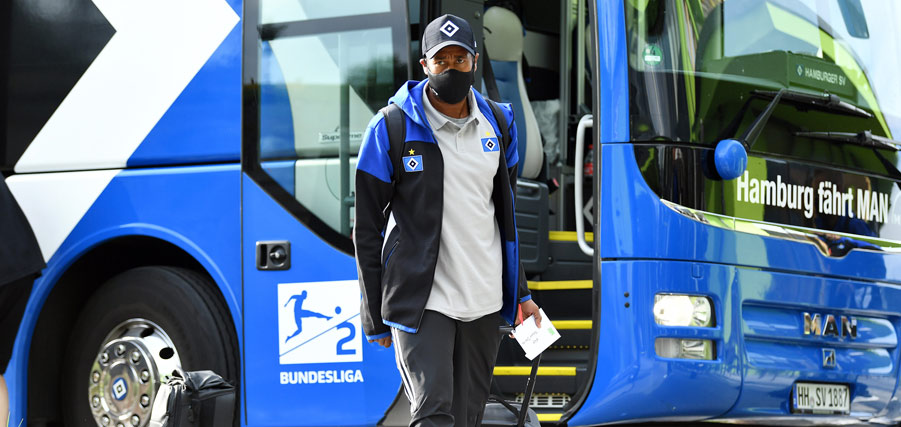 Plans for the double header week
HSV will contest two league games this week, which will see them make stops in Hamburg, Walldorf and Herzogenaurach.
Exactly 305 kilometers separate the BWT-Stadion in Hardtwald and the Jahnstadion in Regensburg. No small distance, then, between the two locations of HSV's upcoming Bundesliga 2 games. On Thursday (22nd April, 20:30 CEST), the Rothosen will face SV Sandhausen before heading to face SSV Jahn Regensburg three days later (25th April, 18:30 CEST). In order to prepare adequately for the upcoming games down south, and with an eye on Covid-19 measures in place, HSV will be taking part in a mini training camp between the two games, and will thus be training at two external grounds.
On Monday afternoon, the Rothosen trained at the Volkspark as usual. Missing from the team session was Jeremy Dudziak, who was only able to train individually due to a stye. The team will take part in two more sessions at their usual ground on Tuesday (20th April) and Wednesday (21st April) before travelling to Baden-Württemberg. On Thursday morning, the team will do a light session at FC Astoria Walldorf's (Regionalliga Südwest) ground before facing Sandhausen that night.
The team will be hoping to have three points in the bag, as they then travel to Herzogenaurach (located in Erlangen, Bavaria) on 23rd April to spend the next day and a half at the HerzogsPark hotel. The Rothosen will have two training sessions on the nearby grass pitch, before travelling to Regensburg on Saturday. The team will then return home, with preparations for the next home game against Karlsruher SC (29th April, 18:30 CEST) set to begin on Monday (26th April). Despite the packed schedule, the team are ready to tackle the next days, with a well thought-out plan that conforms to the Covid-19 restrictions in place to guide them successfully through.