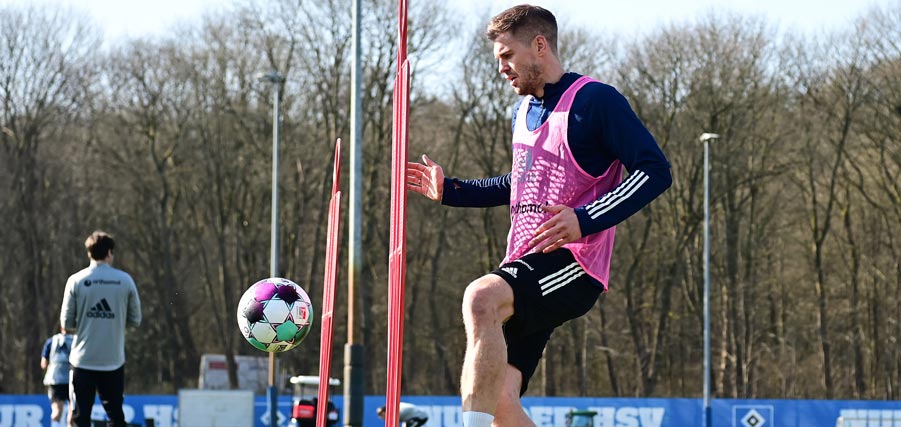 "Pleased to have the ball back at my feet"
Simon Terodde returned to complete parts of the team's training session on Wednesday after recovering from his coronavirus infection and fulfilling the subsequent quarantine.
It's been just over two weeks since Simon Terodde was last seen at the Volkspark training pitches with the ball at his feet. Earlier this month, the HSV goalgetter tested positive for coronavirus and had to quarantine for a fortnight. On Monday night/Tuesday morning, his time at home was over, which meant the 33-year-old was able to train individually yesterday (Tuesday) after completing a health test and a performance test at the UKE (Center for Athletic Medicine). On Wednesday, Terodde (20 goals this season) was back among his teammates as the sun shone down on the Volkspark. After completing parts of the session, a visibly relaxed Terodde took the time to answer some questions from the press.
Simon Terodde on...
... his time in quarantine: At first it obviously wasn't good news. Luckily, I was pretty much asymptomatic though – I was only mildly affected, so I was able to do sport again quickly. The last few days were tough, though, because I really wanted to go back and join the team.
… his thoughts after testing positive: During the first few days I was hoping more than anything that my teammates would remain healthy. The club resolved this very well though; the hygiene concept worked.
… his home-gym workout routine: I spoke to the coaches every day. After getting the all clear I got on the exercise bike to get my circulation going again. After that it was all stabilisation exercises on the agenda. Now I'm pleased to have the ball at my feet again.
… his fitness: The plan is for me to travel with the team to Hanover. I've discussed this with the coach. We will have to see how many minutes I'm able to play – ultimately, the coach will decide.