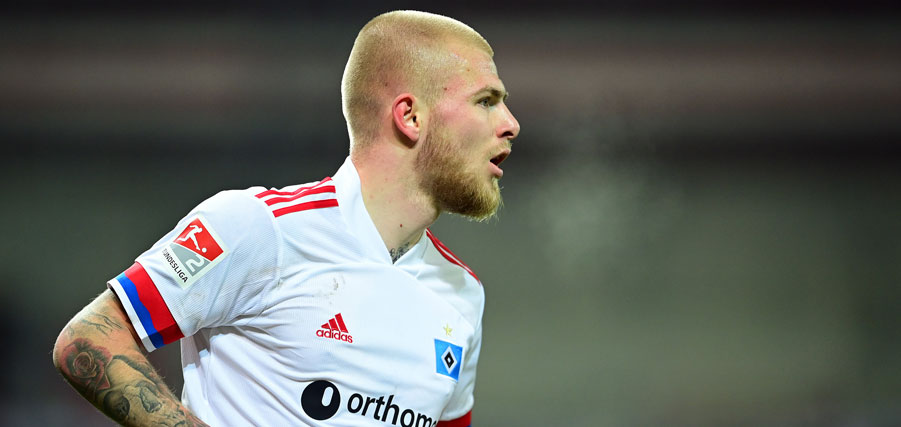 Rick van Drongelen moves to Union Berlin
The 22-year-old Dutchman is leaving the Rothosen and joining Bundesliga club Union Berlin.
Rick van Drongelen, originally under contract until 30 June 2022, is moving from Hamburg to Berlin. HSV granted permission for the 22-year-old to accept Union Berlin's contract offer so that he can fulfil his wish of playing in the Bundesliga next season. "Despite his relatively young age, Rick is a player who always tried to lead the way in his four years here, and always gave everything he had for HSV. Unfortunately he had some bad luck with injuries last season and was unable to get any real match practice given the lack of a winter break. We were happy to grant Rick's wish to play in the Bundesliga gain and accepted the offer from Union Berlin. We wish Rick all the best for the future," said HSV sporting director Michael Mutzel.
In turn, Rick van Drongelen thanked the club for his time here and said: "Firstly I would like to thank everyone at HSV for our four years together in Hamburg. It was always an honour to represent the badge and play in front of these outstanding supporters. HSV will always have a place in my heart. I owe the club a debt of gratitude. My aim was to regain promotion with HSV but unfortunately I was not able to manage that. Now I'm looking forward to a new challenge with Union Berlin and hope HSV can get promoted next season."
95 Passionate appearances for HSV
For Rick van Drongelen, this move marks the start of a new chapter, ending one of four years in HSV colours. In summer 2017, the left-footer joined the club from Sparta Rotterdam and made 18 Bundesliga appearances for the Rothosen. After the club's first ever relegation from the Bundesliga in 2018, van Drongelen became an integral part of the HSV defence, missing only two competitive games in the first two second-division seasons. In the last game of 2019/20, van Drongelen tore his cruciate ligament and subsequently managed only four appearances the following season. He will be remembered, however, for his 95 competitive appearances, each one played with more passion than the last, several emotional moments, plus two goals and three assists. A true team player.
HSV would like to thank Rick for his commitment to the club and wish him all the best of luck and especially fitness for his new challenge.