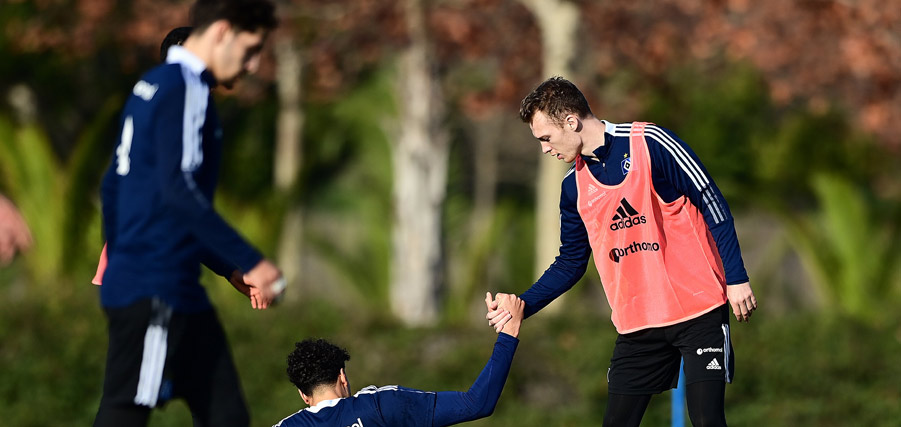 Schonlau: "This is exactly what I want".
As in his first half at HSV, Sebastian Schonlau is marching ahead in the winter training camp. In an interview with HSV.de, the Rothosen captain comments on his statistics and talks about his leadership culture.
A beautiful pass into the interface here, a won duel there: Sebastian Schonlau's qualities are once again on full display in the training sessions in Sotogrande, southern Spain. The summer newcomer, who was named HSV's 31st captain (since the founding of the Bundesliga in 1963) a few weeks after his arrival, is also setting a good example in the winter training camp and leading the team with his own leadership culture. He is always present in the game and competition forms, but only very occasionally with verbal volume. "Of course, I'm a bit more outspoken now and then, but in principle I try to deliver my performance first and foremost and to set an example of commitment. If you perform, then you can simply communicate certain things to your team-mates better and more credibly," explains Schonlau in an interview with HSV.de, thus defining his understanding of a leading player.
One thing is certain: both the 27-year-old's commitment and his athletic performances have provided plenty of support in his first six months at HSV. This can also be proven by the statistics, which give "Bascho" a strong report card. 1597 ball actions and 1290 passes played in 17 appearances are league bests, the passing rate is well above average both overall (90.3 per cent) and in the opponent's half (84.4 per cent). "It's part of our idea of the game that we as centre-backs take part in the game a lot and act courageously. But that's also exactly what I want, so I'm very grateful to the coach for giving me these opportunities," says the native of Warburg (East Westphalia), referring to his former time as a six-pointer, which benefits him in implementing head coach Tim Walter's bold approach to the game: "We're often in zones that you don't normally play in as a centre-back. My time in defensive midfield has helped me a lot in that regard, although of course I'm facing the game a lot more often now."
Another area where the 1.85 metre tall defender still sees potential for improvement is his heading game. Schonlau has won 58.8 per cent of his duels so far, and in the remainder of the second half of the season he wants to be a little more resolute in his aerial duels: "I can be even more robust there, although I don't always know what statistically counts as a won header duel," says Schonlau with a grin before getting ready for the next training session. In the next training session, the statistically verifiable qualities will be in evidence again.