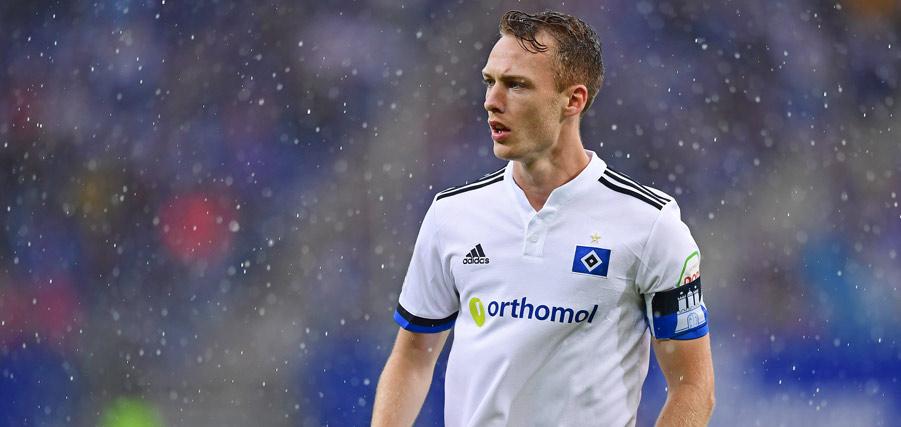 Schonlau to return to Paderborn: the difference maker
Sebastian Schonlau returns to his old stomping ground as HSV captain on Friday. The newcomer from SC Paderborn is already indispensable for the Rothosen.
Sonny Kittel's cross was perfect, Robert Glatzel's reception of the ball and finish were all of a piece: Hamburger SV's 1:0 against Fortuna Düsseldorf (16 October, final score: 1:1) was only possible because a centre-back dribbled deep into the opponent's half and played the penultimate pass. Sebastian Schonlau's courageous approach to the game paved the way for the Rothosen goal, as he had done in the last-minute equaliser in Aue (1 October, 1-1). It is seemingly inconspicuous scenes like these that underline the 27-year-old's sporting value. In a very short time, the summer newcomer from SC Paderborn has established himself at HSV, was given the captain's armband before the start of the season for good reason and has so far only missed the home match against 1. FC Nürnberg (26 September, 2:2) with a suspension. Next Friday (22 October, kick-off: 6.30 p.m.), "Bascho", as he is called by his team-mates, now returns to his old stomping ground and wants to prove his class in the away game in Paderborn as well. "We have critically worked through the Düsseldorf game and are now concentrating on the SCP. The head goes back up and things continue," says the seventh best tackler in the 2nd Bundesliga (64.3 per cent of his duels won) with a view to the important away game at the Benteler Arena. A three-point win in Ost Westphalia would be significant in every respect, as Schonlau emphasises: "It's no secret that we're not satisfied with our points tally so far. Nevertheless, you always have to differentiate between performance and results."
There is little to doubt about the performances of the centre-back, who, in addition to his defensive qualities, also makes his mark in possession: 901 ball actions and 748 passes are the second-best figures in the league, only surpassed by team-mate Tim Leibold (1,101, 808). This is how actions like the one against Düsseldorf come about, which often go under the radar. But Sebastian Schonlau will be relatively indifferent to that. The team player is always concerned with the team's success. Especially on Friday, in his old sporting home.