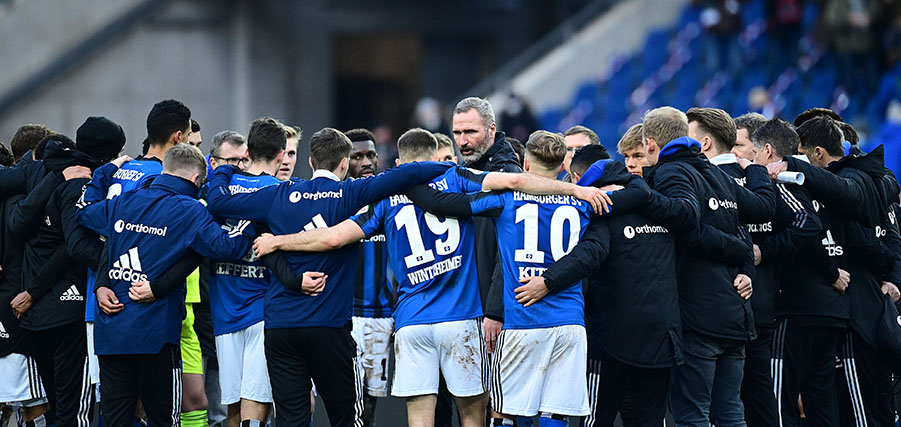 Voice's from the Game
05.12.21
"That doesn't knock us down"
HSV was unlucky to lose 1-0 at Hannover 96. The only goal scored by Linton Maina was the subject of discussion after the final whistle among the Rothosen, who were also self-critical. Quotes from the game.
On Sunday afternoon (5 December), Hamburger SV suffered another defeat after twelve unbeaten league games in a row as part of the 16th Second Division matchday. The Reds were unfortunate to lose 0:1 (0:1) against Hannover 96. It was unfortunate because the home side, who fought hard, took the lead after a successful counter-attack by Linton Maina (13th), which was preceded by an unpunished foul on Bakery Jatta in the 96 penalty area. Accordingly, the Reds needed to discuss their second defeat of the season, but they did not pin it solely on this controversial situation.
Moritz Heyer: The defeat is annoying. We had enough chances to score a goal. In one situation we were not careful enough. But I also think it was a penalty before that. That doesn't knock us down. We will try to continue next week. It certainly hurts today and tomorrow, but then we'll look ahead again.
Sebastian Schonlau: With the way we fought and played football, this defeat won't knock us off course.
Tim Walter: Joy and sorrow are sometimes close together, you can see that for example in the scenes before the 0:1. I don't blame my team - the boys tried until the end, but in the end we have no points in our luggage. We have to see to it that we reward ourselves with a goal. My team played a good game despite the pitch. We played football, allowed almost nothing. We were also good at making chances. The ball bounces in such a way that it gets to Maina. We were often unlucky in front. That's football. We accept that and move on.
On the alleged foul on Jatta before Maina's goal: He didn't blow the whistle. I'm tired of having to discuss it every time. You have to look at it when you are not sure. That's quite human and mistakes are also human. We have to accept that now. We can still score goals and we don't let ourselves get involved in that.