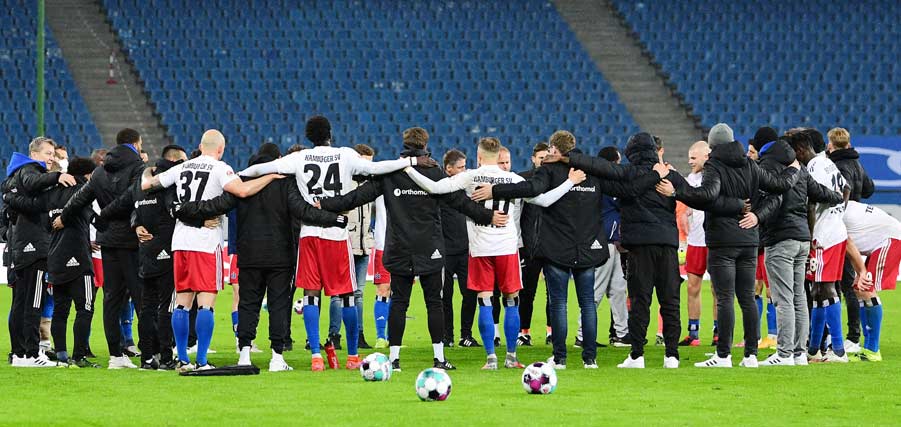 Post match reaction
29.04.21
"That was definitely not enough"
HSV drop two points at home to KSC after a 1-1 draw. We have the full reaction to a disappointing result.
HSV only managed a 1-1 draw against Karlsruher SC in Matchday 30's rescheduled fixture (Thursday, 29 April). The disappointment could be felt after the final whistle blew in this must-win game for the Rothosen. Despite a strong first half and despite taking the lead through Terodde early in the second, a quick KSC response sucked the life out of Thioune's men and the game ended all square. Match reaction below.
"It's gutting and hard to put into words" Rick van Drongelen" Rick van Drongelen
Sven Ulreich: We wanted and needed to win today, but in the end it wasn't good enough. We were able to play some good football out from the back but in the end we did not create enough chances. The basics like our fifty-fifties weren't right either, so a draw is a fair result. There are three games to go now, but it's no use looking at the teams around us if we aren't winning our own games. Otherwise we needn't bother talking about promotion.
Rick van Drongelen: That wasn't good enough. Not the result and not our performance. We desperately wanted three points. We knew that even one goal could be enough, and then we conceded that unfortunate equaliser straight away. After going in front, I felt as though we would win the game, but after the equaliser we failed to create any more big chances. It's gutting and difficult to put into words.
"We lacked composure" Daniel Thioune
Daniel Thioune: We expected a lot from ourselves today. We wanted to show what we had been working on in training. But if one thing was clear from the start today it was that we lacked composure. We played well at first, played our way into positions well, but when we got past that first line of pressing we couldn't find the space to start any dangerous attacks. A couple of my players had tired legs, which was also down to the lack of composure mentally. We tried to make some changes at half time to give the lads some more options.
If you lack the composure on the day, you need a moment to make things go your way. This moment was too short for us – we took the lead with the penalty and it may have given us a bit more confidence, but we didn't create any more clear opportunities for the rest of the game. On the whole a draw is definitely not enough for what we needed.
Christian Eichner: We're obviously really happy with the point. It was exactly the kind of game we had expected, given our opponent's situation. We wanted to take advantage of that for as long as possible, pressing them high and aggressively as much as possible. We did really well in that respect. To summarise the first half, we had the best chance. I wasn't happy with the first ten minutes after the break, but Daniel Gordon's header was a blessing. On the whole, looking at the possession stats among others, the draw is a fair result. It feels a lot better for us than for HSV, but I wish them all the best for the remaining games.