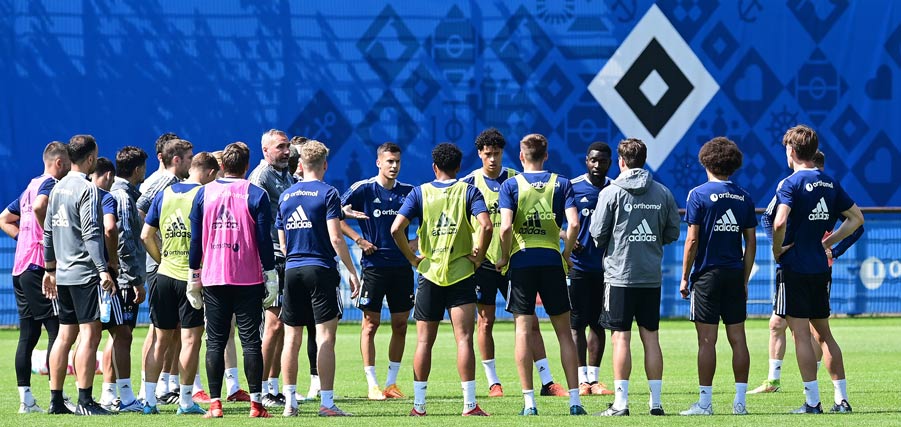 Training camp in Styria: This is the squad
The Red Shorts are travelling to Austria with 27 professionals. Four youngsters are among them. Johansson is training at home.
After the first week of training in Hamburg with a total of eight sessions, the next phase of this year's summer preparations begins tomorrow(Saturday, 25 June): The Rothosen travel to Styria for a training camp. Until 2 July, they will sweat in the beautiful natural landscape of the popular Austrian province and work on tactical refinements. Head coach Tim Walter can call on a total of 27 professionals. In addition to five goalkeepers, 22 field players will be present, including the youngsters Valon Zumberi, Bent Andresen, Omar Mageed and Hannes Hermann. The coaching team still has to do without Bakery Jatta, Anssi Suhonen and Elija Krahn, all of whom are currently undergoing rehabilitation measures at home.
Marko Johansson will also be absent in Austria. The 23-year-old goalkeeper has been released to clarify his sporting future and has been granted a guest match permit. The Swede will stay fit in his home country during the coming week. With Daniel Heuer Fernandes, Matheo Raab, Tom Mickel and Leo Oppermann, HSV currently has four other goalkeepers in its professional squad. Johansson is therefore looking for a new challenge.
The days in Styria will also be challenging. In addition to the daily training sessions, which will take place at the sports facility in Fürstenfeld, two test matches against Hajduk Split (29 June) and Aris Thessaloniki (1 July) are on the agenda.
The squad: Goalkeepers: Daniel Heuer Fernandes, Matheo Raab, Tom Mickel, Leo Oppermann, Hannes Hermann; Outfield: Moritz Heyer, Sebastian Schonlau, Filip Bilbija, Laszlo Benes, Robert Glatzel, Sonny Kittel, Ludovit Reis, Xavier Amaechi, Tim Leibold, Robin Meißner, Jonas Meffert, Josha Vagnoman, Miro Muheim, Aaron Opoku, Maximilian Rohr, Jonas David, Stephan Ambrosius, Ogechika Heil, Bent Andresen, Mario Vuskovic, Valon Zumberi, Omar Mageed.