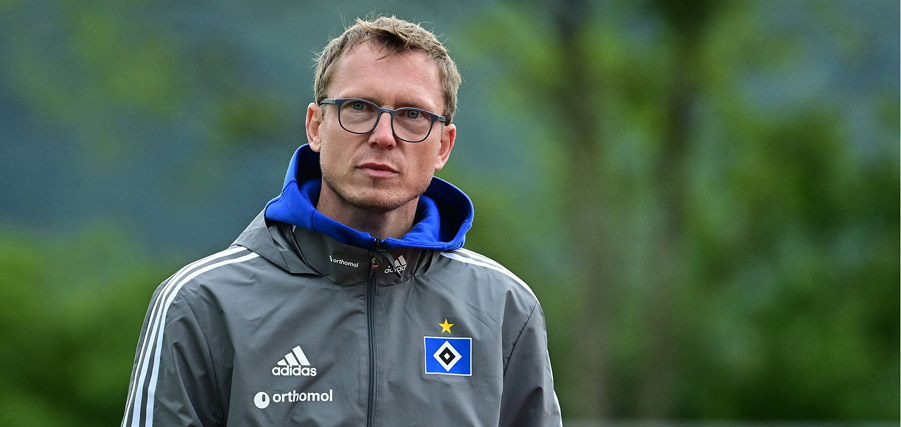 Post Match Report
27.09.21
Unconditional will to win as drive for the learning process
In a media round on Monday afternoon, sport director Michael Mutzel classified the appealing performance against Nuremberg and the general development process of the Rothosen.
One day before his 42nd birthday, Michael Mutzel certainly wanted three points. In the end, the Red Shorts only managed to pick up one point against 1. FC Nuremberg (2:2) yesterday (Sunday, 26 September), but the HSV sporting director did not appear disgruntled on his day of honour. On the contrary, he enjoyed long stretches of the game just as much as the Rothosen fans in the Volksparkstadion, who rewarded the courageous performance with applause after the final whistle. Nevertheless, there was, of course, also room for improvement, which Mutzel analytically pointed out in today's media round as well as the promising development of the team as a whole.
The 42-year-old sporting director spoke in detail about…
... the insights after the Nuremberg game: I think that overall we had good control of the game, although the Nürnberg counter-attacks were always dangerous. The goals we conceded were very unfortunate, but overall it was a solid performance. I particularly liked the fact that our team wanted to win at all costs and continued to play forward even after the equaliser. I see that as a very positive thing, because we felt we were much closer to scoring a third goal and the way we did it was very promising.
... the result in the table so far: Honestly speaking, we could have more points on our account. Some games ended in a draw where we would have deserved a win. But that's the way it is, it's a learning process. We have to make fewer mistakes and be a bit more consistent on the offensive. But I'm very confident that we'll do that even better in the coming weeks.
... the role of the favourites in the coming weeks: There are no compulsory victories in this league. Basically, based on the impressions we've had so far: The way we play, we're hard to beat, but we have to bring that to the pitch again on Friday in Aue. Of course we want to win there. But there are hardly any clear results in this division, so we shouldn't fool ourselves. It's incredibly balanced - and it will stay that way.