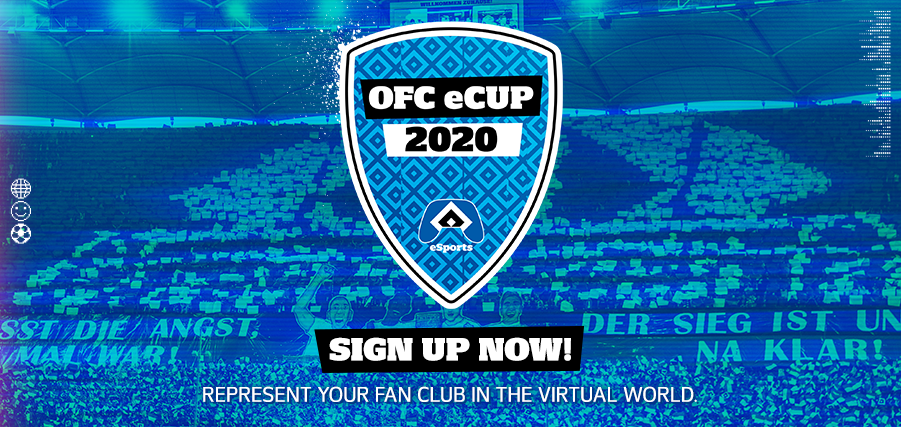 OFC eCup 2020: Sign up and represent your fan club in the virtual world
Any members of official HSV fan clubs can now register for the online FIFA tournament and represent their fan club on the PlayStation4.
+++ Registration and a guide on how to register for the tournament below +++
All members of the 1,163 official HSV fan clubs (OFCs) worldwide controllers at the ready: the HSV eSports team have teamed up with the fan liaison officers to create a brand new online tournament, and let you represent your fan club in the process. By the end of April, the fan club with the best FIFA player in its ranks will be crowned as the first OFC eCup champion.
Due to the coronavirus outbreak, the tournament will of course be played online, as #WeStayAtHome. During the online tournament, the participants will play one-on-one on the PlayStation4 against each other on FIFA 20. The whole tournament will be played in 85 mode, meaning that all players have an overall rating of 85, just like in the Virtual Bundesliga, with of course all teams playing as our beloved HSV.
The only requirements to take part are that you are a member of an official HSV fan club, you are at least 14 years old and are in possession of a PlayStation Plus account.
You want to be a part of it and represent your OFC in the virtual world?
Sign up now! You'll need to be quick, as the first qualification tournament on the 11th April is already fully booked. There are still places available for the second tournament on the 18th April. The best 32 players from both tournaments will qualify for the Grand Online Final, which will take place on the 25th April. The overall winner will be crowned as the best FIFA player from the whole HSV OFC community, as well as receiving a surprise present from HSV.
Sign up now and represent your fan club! You can register yourself here.

As the registration site is in German, here's a quick step-by-step guide on how to use it:
1) Scroll down the page to 'Der Zeitplan' and then choose which qualification tournament you would like to take part in.
2) Press 'hier klicken' underneath 'zum Turnier' to sign up for that tournament.
3) Click on 'Anmeldung' next to 'Übersicht' and then 'anmelden' to register your account or log in to your existing account.
4) Register and then activate your account through the email sent to your email address.
5) On the day of the tournament, you will have to check in between 3:00pm and 5:00pm CET, before the tournament starts at 5:00pm CET.