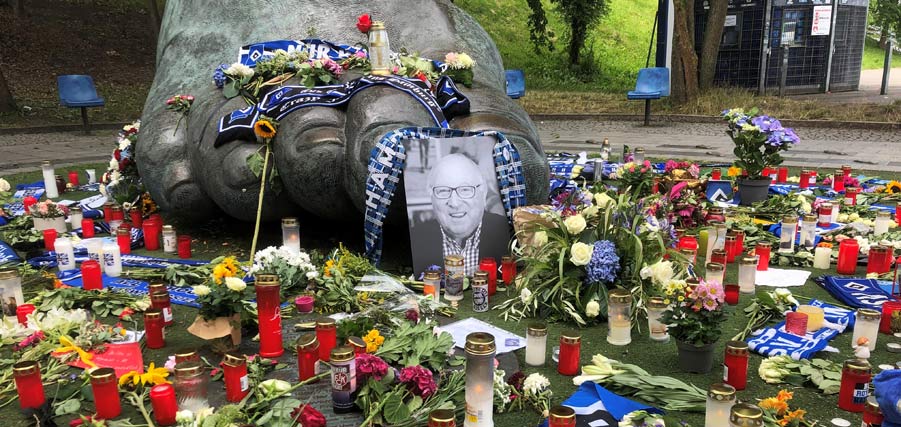 Uwe Seeler Foot: A Place of Beautiful Remembrance
The bronze monument in honour of HSV idol Uwe Seeler has become an emotional place of remembrance.
Back on 24 August 2005, when the oversized bronze sculpture was unveiled in his honour, Uwe Seeler was naturally right in the middle of it. Together with numerous invited guests, he inaugurated his own monument and demonstrated what distinguished him throughout his life: pure joie de vivre, happiness, humility and gratitude. Almost exactly 17 years later, the Uwe Seeler Foot has become a place of remembrance. Since the death of the HSV idol (21 July), countless people have made a pilgrimage to the landmark and paid their last respects to "Us Uwe".
Many flowers, candles and wreaths have been laid. But also very personal dedications: A book of condolence, several letters and notes with memorial sayings. Of course, the mourners are always in tears, but here and there there is also a smile or a nice conversation. And this is exactly what Seeler, who until the end repeatedly reported his satisfaction with his own life's journey, would certainly have wished: despite all the mourning, to also bring the positive memories to the fore.
One thing is certain: The emotional scenery around the memorial created by the artist Brigitte Schmitges shows once again: "Us Uwe" was really one of us. Thus, the most famous footballer son of the Hanseatic city and the greatest HSVer of all times will remain unforgotten...