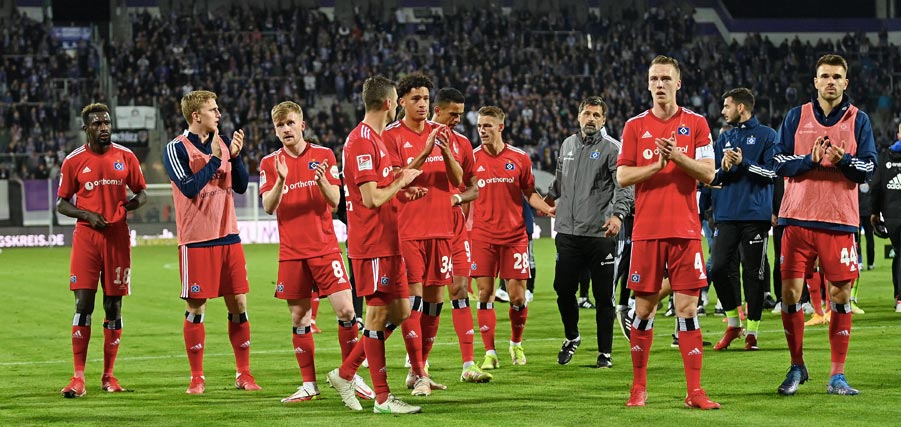 Voice's from the Game
01.10.21
"We are happy about the lucky point."
The HSV voices were not satisfied with their performance after the final whistle, but were happy about the lucky point gained.
HSV got away with more than a black eye in Aue and very happily took a point from the Erzgebirge stadium. With the last action of the game, Aue's Dirk Carlson scored into his own net in the 94th minute to equalise 1-1 for the Red Shorts, who struggled to create clear scoring chances against the struggling and deep-standing hosts for almost the entire match. Accordingly, the protagonists were happy about the point.
Sebastian Schonlau: It was definitely not our best game today, although we actually started very well, but then we lost the thread after a quarter of an hour. When you're trailing here in this stadium and against this fierce opponent, it's going to be very difficult. On the positive side, we stayed brave and kept playing for the goal, which somehow came. It was a very heated and emotionally charged game with two crazy goals, in which we have to be happy in the end to take the one point.
Jonas Meffert: Aue stood very deep, which of course should not be an excuse. But against this combative and deep-standing Aue team we had a bit of a hard time because of that, but of course we should have created more chances even under these circumstances. Instead, we fell behind because we conceded a goal, which I've never seen in this form before. Nevertheless, we managed to get a deserved equaliser in the end, even though the goal was at least as strange. For us as a team, however, it is simply important that we didn't lose this game in the end.
"There are days like this when nothing goes right" Tim Walter
Tim Walter:We were not good today, we were very pomaded and not determined. There are days like that when nothing comes together. Nevertheless, we believed in our chance and worked hard to score a goal here. That's why we're happy about this lucky point that we were able to take home in the end, because despite our poor play, we simply didn't stop.
Marc Hensel: I am very proud of us, of the region, the club, the fans and of course the team. The way we all acted together today is outstanding. HSV is the strongest team in the league and yet we dominated the game and should have made it 2-0. The tragedy at the end of the game hurts incredibly, of course, but it will only make us stronger.