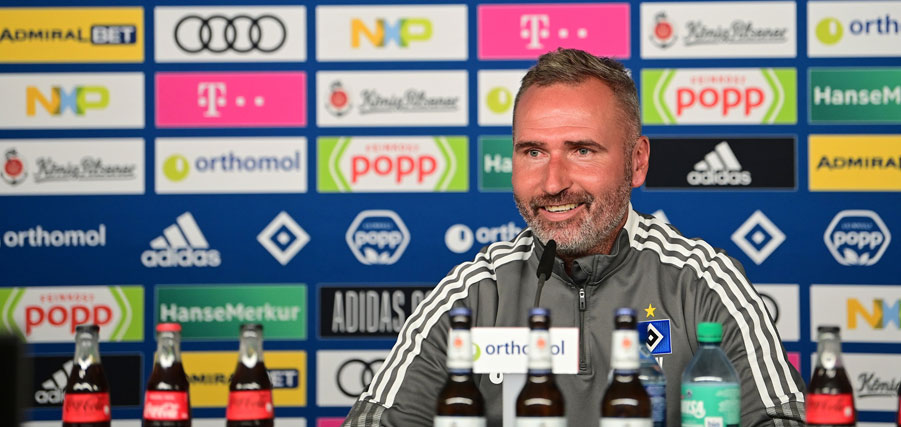 Press Conference
17.03.22
"We know what we are good at"
In the press conference before the away match at Fortuna Düsseldorf, head coach Tim Walter spoke about the past week, the personnel situation and the upcoming opponent, among other things.
Last week, for the first time since the start of the pandemic, HSV had to deal with a large number of Corona cases among the team and staff. Due to the resulting staff shortage, the home match against FC Erzgebirge Aue, originally scheduled for 12 March, was postponed to 5 April (kick-off 6.30 p.m.), so that the Red Shorts will not only start the matchday with one less game played before their next match on Saturday in Düsseldorf (live on HSVnetradio from 1.15 p.m.), but also with certain question marks as to how the individual players have coped with the past few days. In today's press conference in the run-up to the game at the state capital, coach Tim Walter (46) provided some insight and spoke in detail about...
... the past week: In this day and age, it's part of the game that something like this can happen. We weren't surprised because it has been happening to more and more players and teams lately. We made sure that the boys were well and that they and their families were well looked after. In constant communication with our medical department, we have determined which players can go through their training schedules and how. With the rest of the players, we trained on site. In the end, this is exactly our daily bread. No matter what the squad constellation is like in terms of the number of players, it's always about making the boys individually better.
… the personal situation: With regard to the players who have been isolated by Corona lately, we are only missing Anssi Suhonen, but he can be back from tomorrow. Otherwise, all players are on board. We are aware of our responsibility regarding their return. We have to be careful. All the guys who were infected with Corona have been to the UKE and had their check-ups. To what extent these players can go over 90 minutes, we have to see. We are broadly positioned in that respect.
... the upcoming opponents: Fortuna has a strong group that has a lot of quality. We have seen in the last few games what they are capable of. But we also know what we are good at. We're going to Düsseldorf with a proud chest. With all due respect to our opponents, we have to play our game.