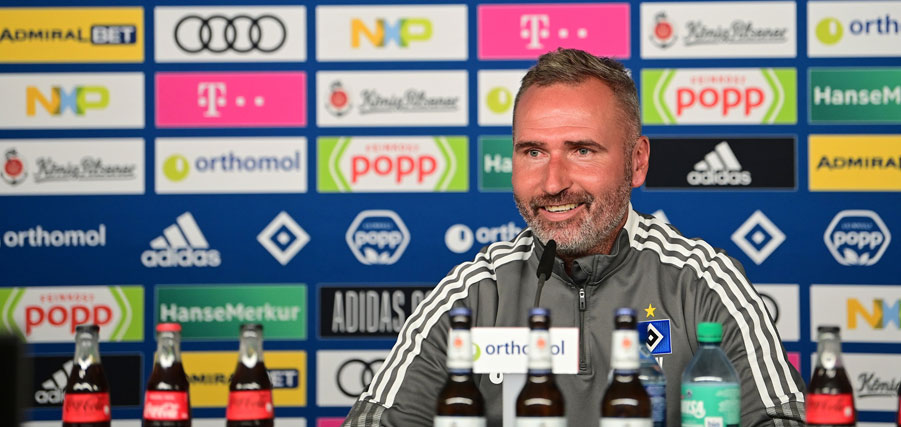 Press Conference
12.01.22
"We must bring our ways on to the pitch."
The the press conference before the away match at SG Dynamo Dresden, Head Coach Tim Walter discussed the upcoming match in the second round of fixtures, the mood within the squad and expected trajectory of the matchday.
The fact that the short winter break is already drawing to a close makes for a distinct and tangible sense of anticipation: Tim Walter is eager for the start of the remaining second half of the season and wants to take the tailwind from the successful winter training camp in Sotogrande, Spain, to Dresden (14 January, kick-off: 6.30 p.m.) in order to build on the good performances that his charges delivered before the turn of the year. In the digital press conference, the football coach spoke not only about the upcoming opponent, but also about the harmonious atmosphere in the young HSV team and the upcoming English week (after the match in Dresden, the cup eighth final in Cologne (18 January) and the city derby against the FSCP (21 January) will follow), which Walter wants to tackle pragmatically as usual.
In detail the 46 year old spoke about...
... the mood within the squad: Everyone wants to play - and from the beginning. That makes us, the coaching team really happy be cause everyone gives it their all in training. Therefore we never have a bad atmosphere be cause everyone knows that they have their chance to play. That lads do this immensly and means that we dont have to worry about this situation.
... the upcoming English Week: Our focus goes only towards Friday evening. The next match is always the most important and we therefore approach it this way. The lads know that their is only one gear they can hit, and thats full throttle.
"Our focus goes only towards Friday evening. "
... the expected run of play: It has already been a while since we last playing Dynamo Dresden. A lot has changed since the last meeting. We are only looking at ourselves, how we want to play and push the performances that we showed we can reach before the turn of the year. Of course we are always very aware of our opponent, who we do never underestimate. In the end we must bring our expectations on to the pitch.