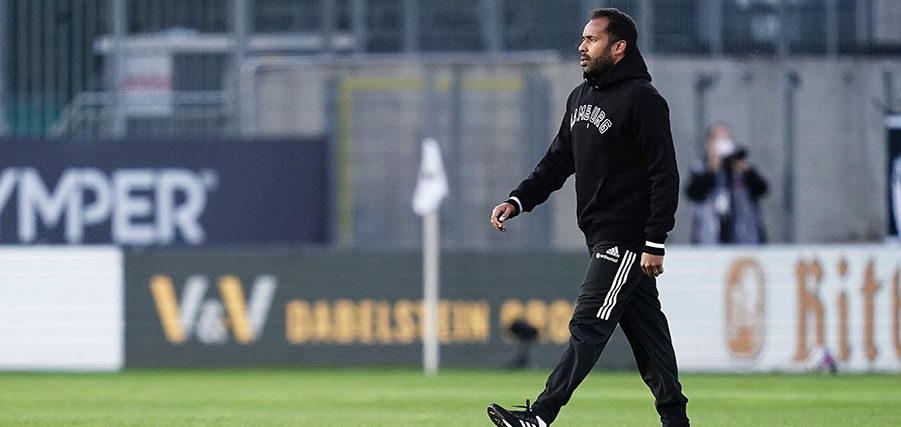 Post Match Reaction
23.04.21
"We offered far too little"
HSV players left the field at the Hartwaldstadion in bitter disappointment after a painful but deserved 2-1 defeat to SV Sandhausen. Here is the full match reaction:
Despite coming within inches of a late equaliser, HSV's rescheduled Matchday 29 fixture against SV Sandhausen ended in a 2-1 defeat. A result that SVS worked hard to achieve with an aggressive and courageous display against the Rothosen, who only started looking dangerous at 2-0 down in the closing stages. Daniel Thioune and his players were visibly and understandable annoyed at full time. We caught some of their thoughts:
Sven Ulreich: We just didn't show up in the first 60 minutes: We didn't take on any of the fifty-fifty challenges that you need to win in order to come away from here with three points. Sandhausen deserved to take the lead when they did – they showed us how to defend to a man all over the pitch. After the hour mark we started to win more challenges, but on the whole we have to be self-critical, it was very disappointing. That was our problem today and that's why we lost. It's a very painful defeat.
Daniel Thioune: The Sandhausen players wanted to leave everything they had on the pitch today. They knew they had to throw everything at this game. That was the difference. They wanted it more. We couldn't find our rhythm and only started playing football after going 2-0 down, with the game already lost. We knew Sandhasen would defend man-to-man all over the pitch and that we would need to work hard to create spaces, but we failed to do that and couldn't start any fast-paced attacks. That makes it easier to close all the spaces when you're man-marking. Sandhausen had absolutely no problems whatsoever in the first hour of the game because we offered far too little. We deserved to lose and with a performance like that there is no hope of getting a positive result.
Gerhard Kleppinger: We knew that we would only be able to win this game with the right mentality. We had the right mentality from the get-go, the only problem we had was that we couldn't reward ourselves for the chances we had created. But we then scored two goals early in the second half to make up for it – we deserved them, and we deserved to win. Tremendous credit goas to the team, they worked fantastically well today. Our energy levels were seriously dropping towards the end though, you mustn't forget that we've been in quarantine for the last two weeks, unable to train. We only started working on the pitch again three days ago. In light of this, we're even more delighted with our performance and about the three big points in our battle against relegation.