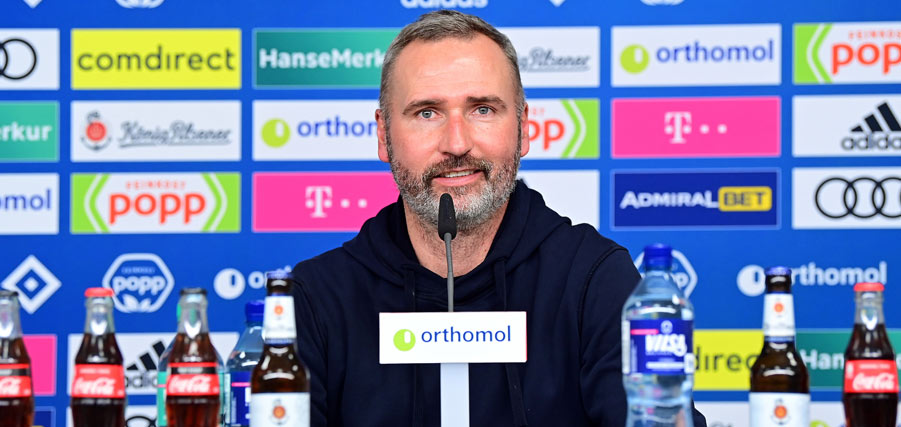 Press conference
30.07.21
"We want to show what we're capable of"
At the pre-match press conference before the first home game of the season against Dynamo Dresden, head coach Tim Walter spoke about the return of fans, squad news and the impressive promoted side.
Tim Walter is extremely excited for this Sunday, as Dynamo Dresden visit the Volksparkstadion (13:30 CEST). It will be his first competitive home game in charge of his new club, and unlike recent months, there will be plenty of fans in the ground too. 17,100 supporters are permitted, with a few seats still available. One of those supporters will be Uwe Seeler, who can't wait to be back in the stadium. "I haven't met him yet, but I'm happy he will be there," said Walter. Up until now, Walter has only been able to get to know the training ground and the stadium, with the Volksparkstadion his favourite place. "It's a good pitch and somewhere you can definitely call your favourite place," commented Walter in the press conference before Dresden.
The 45-year-old discussed...
...the squad: Jeremy Dudziak, Anssi Suhonen and Josha Vagnoman are back, but we'll have to wait and see after tomorrow how they are. I haven't made any decision on the squad or the starting XI yet. We're just happy that they're back.
...the opponents: Dresden are a team that shouldn't be underestimated. They've got a high reputation and certain standards, which we will have to be careful of. After winning 3-0, they will be full of confidence. They've got a lot of power up front. Despite all that, this is our first game at home in front of fans again and we want to show what we're capable of. I think it will be a fiery match, and one that we want to win.
"You can only play like this if you believe in your own ability."
… HSV's style of play: I would describe my way of playing as confident. You can only play like this if you believe in your own ability. If you think more offensively, you'll try to have more players up the pitch and ultimately look to score more goals. We've all learnt that we can defend players one on one. We've lost a bit of confidence defensively. I believe that when players are young, we should look to make them take players on in attack and in defence.