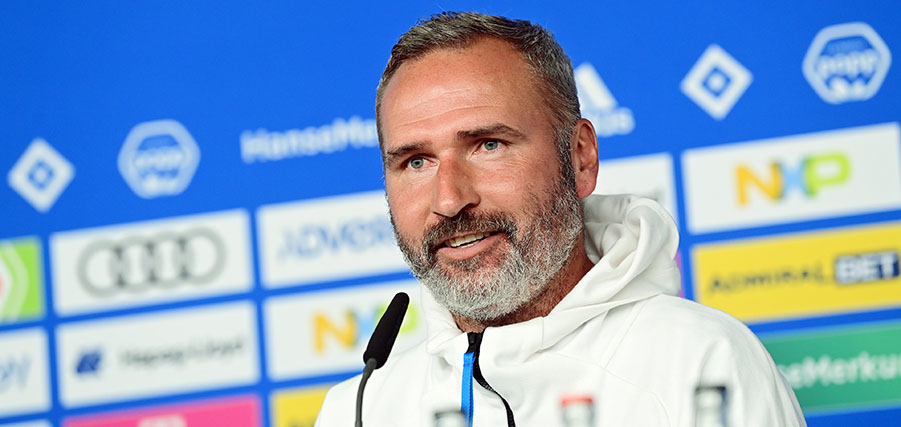 Press Conference
10.03.23
"We'll stick to ourselves and do our thing".
In the press conference before the away game at Karlsruher SC, HSV coach Tim Walter spoke about the personnel situation, the game in Baden and the state of the league.
Hamburger SV is at home to Karlsruher SC on Sunday (live on HSVnetradio from 1.15 pm). With 13 points from the last five games and four wins in a row, the team from Baden is on a roll and will be the strongest away team at the BBBank Wildpark. Especially as HSV traditionally expects a heated atmosphere at KSC due to the dramatic Bundesliga relegation in 2015. However, for HSV coach Tim Walter, who himself has a KSC past and grew up not far from the venue as a native of Bruchsal, this aspect plays no role, as he made clear at today's press conference. Instead, he said, the team is paying attention to the here and now and concentrating on the things they can influence. This is a strategy that Walter and his team have used successfully at HSV.
The 47-year-old spoke in detail at today's press conference about...
... the personnel situation: "Ludovit Reis was able to train fully again today. Sebastian Schonlau has an ankle injury. We're looking from day to day, but it might not look so good for the weekend. Otherwise, with the exception of Xavier Amaechi, everyone is on the pitch and healthy. If "Bascho" is out, we have a lot of options in terms of personnel and system.
... the game in Karlsruhe: Every game in the 2nd division is difficult. Every team tries to go all out against us and do something special. The stadiums are full when HSV comes. That's even more incentive for the opponents. We have to withstand that. We're doing that well so far: we're even better than in the first half of the season in terms of points and goals scored.
... the 2015 relegation: That was so long ago now, there is no rivalry for us in that respect. We stick to ourselves and do our thing. That is never meant to be disrespectful towards the opponent, but we can only influence our performance. We can't influence whether other clubs or fans hold grudges against us. We always look ahead. For us, the only thing that matters is what's coming and what's going.
... the supposed three-way battle at the top of the table: There are not only three teams playing in the league and the rest are watching. Every week someone can tip the scales. In pre-season, we were seven points behind by matchday 29 and everyone knows what happened. We have to respect every opponent. Our strategy is to work hard and collect a lot of points. Everything else is not my construction site.