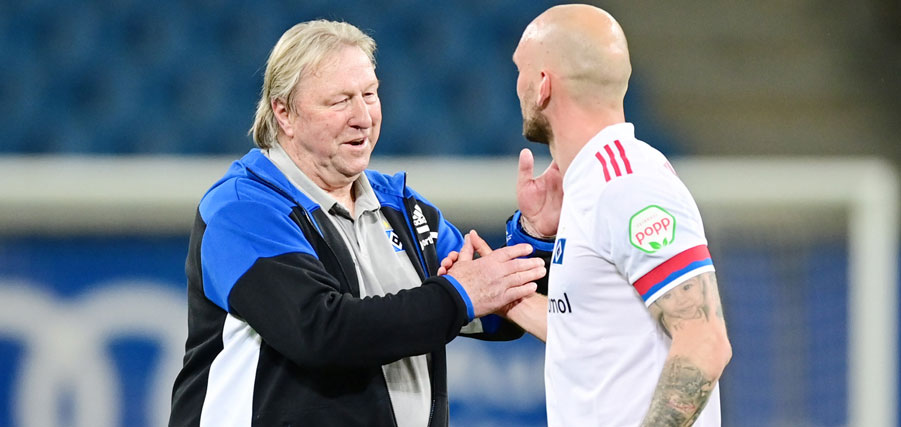 Post match reaction
11.05.21
"We've regained the feeling of what it's like to win games"
HSV celebrated a big win in Horst Hrubesch's debut match in charge, beating 1. FC Nürnberg 5-2 at home in order to keep pace at the top. Read on for all the post-match reaction from the Rothosen.
There were several smiling faces to be seen within the HSV squad after the final whistle. Tonight's result ensured that the Rothosen still have a fighting chance in the promotion race. With the knowledge that only a win would do, the team were rewarded for their strong performance with a 5-2 win over 1. FC Nürnberg on Monday evening (10th May). Despite their fate not being entirely in their own hands, HSV have taken an important step towards remaining in contention. In order to do so, the team must be willing to put in the work, a theme which they touched on again following tonight's game. Hear all the post-match reactions from the HSV camp.
Tim Leibold: It's nice to have finally won a game again. Unlike in past weeks, we played well for the entire game and our attackers did especially well. The ease and clinicality that we were lacking recently has returned. The coach, through individual discussions, has made each player aware of their strengths. However, we don't need to go overboard with our praise. We know that we're able to win a couple of games. That's exactly what we will try to do again in our next two matches.
"We're lying in wait now" Toni Leistner
Toni Leistner: We wanted to regain that feeling of what it's like to win games. We managed to do that tonight. The coach took the players that were going to start and gave them a heck of a lot of self-confidence, by building them up. You could see today how well that worked. We're lying in wait now. We need to do our homework now, which also includes keeping faith. Fürth have two tough games coming up still. If we win in Osnabrück, then we might be able to put some pressure on them again.
Horst Hrubesch: The team didn't feel like there was any trust in them anymore. If you observe them at training, then the quality of the team is obvious, especially all the young players. It was a big week for me and for the team, and it was a lot of fun. We'll have to wait and see what happens in the final two games. What matters now, is how well-rehearsed we are. Neither of these games will be easy. We will need a similar performance to tonight in Osnabrück on Sunday. We won't be getting anything handed to us.