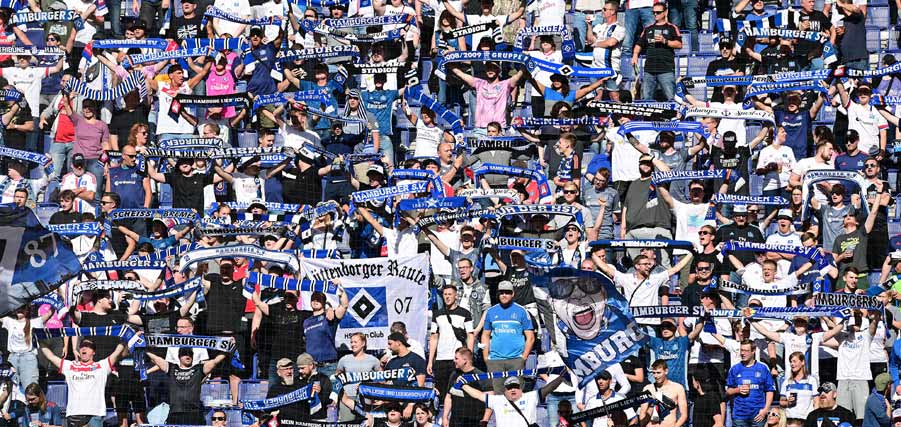 #HSVF95: More than 30,000 tickets already sold
For 2.Bundesliga topspiel against Fortuna Düsseldorf, the Rothosen can look forward to the biggest home crowd since the outbreak of the Corona pandemic. Those who also want to be part of the action can now secure tickets online.
Last Friday evening, 25,000 spectators turned the Volksparkstadion into a madhouse. At the international match between Germany and Romania, the fans were a factor in the success of the national team's 2-1 victory, so much so that even the highly decorated DFB players were amazed at the crowd's support when the final whistle blew. "That felt pretty awesome. Even if it wasn't a 6-0 - but this passion and this atmosphere in the stadium," explained Joshua Kimmich. "You also have to compliment the fans here," agreed Thomas Müller, who scored the winning goal. "Although we were 0:1 behind at half-time, the performance was rewarded. When we scored the 2:1, it was a small explosion. You could feel the connection. We really enjoyed that on the pitch."
The HSV players know these feelings of explosion and connection all too well. In the last-minute victory over SV Sandhausen (2-1), the 19,950 spectators in the round caused a tremor. At the most recent home game against 1. FC Nürnberg (21,337), more than 20,000 spectators gathered in the Volksparkstadion for the first time since the beginning of the Corona pandemic, and for the upcoming 2.Bundsliga topspiel against Fortuna Düsseldorf (Saturday, kick-off 8.30 pm CEST) it will be even better! As of now, more than 30,000 tickets have already been sold for the first HSV home match under 2G conditions.
The high demand sends a clear message: HSV fans are looking forward to a return to stadium normality. For the game against the Rhinelanders, only vaccinated and recovered fans will be allowed into the stadium, but the distance rules and the obligation to wear masks will be abolished. In addition, the A-stand in the north stand and the middle section of Block 22C will once again be standing-room areas for this home match. Lap children can also be taken into the stadium again. Alcohol may also be served.
Tickets can only be purchased online at the HSV-Ticketshop. The only exception is wheelchair seating, where a telephone booking is required. All fans can purchase up to four tickets.
All information on advance ticket sales is available here.
All important information on the 2G conditions can be found here.