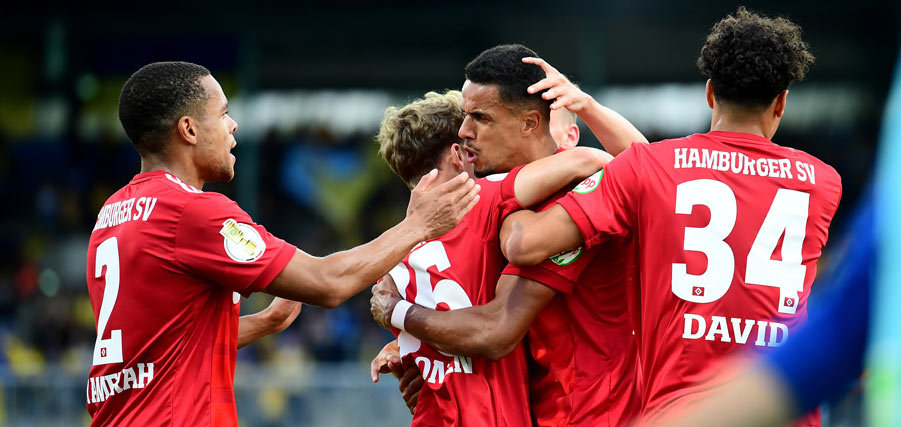 Post-Match Report
09.08.21
Tailwind and determination heading into Derby Week
HSV march into the second round of the DFB Cup thanks to a 2-1 away win in Braunschweig, rounding off a good start to the season. In four days, the city derby is on the schedule.
When referee Tobias Welz ended the first-round match in the DFB Pokal yesterday evening (August 8) at around 8:25 p.m., a mixture of relief and dissatisfaction was evident on the faces of HSV's players. On the one hand, the 2-1 win at the fighting Eintracht from Braunschweig was enough to advance to the second round, but on the other hand, the performance left much to be desired in some phases of the game. "This must not happen," said Head Coach Tim Walter
n reference to the not undeserved equalizer, which fell shortly before the break in the weakest Rothosen sequence. In the 2nd half, too, the 45-year-old's charges did not always appear structured in their actions, but defended extremely committedly and took advantage of a standard situation to score the ultimately game-deciding 2:1 through Robert Glatzel.
The center forward scored his second goal in HSV's third competitive match and was able to celebrate just like Jan Gyamerah, who marked the 1:0 in center forward style and made his first ever appearance as a Rothosen goal scorer. In the 38th competitive match since his move to HSV in the summer of 2019, Gyambo scored his first goal and was deservedly named "Man of the Match" by the DFB. However, Anssi Suhonen, who was substituted in the 61st minute and thus celebrated his professional debut at Hamburger Straße, would also have deserved a small trophy. The 20-year-old Finn suffered a torn cruciate ligament in July 2020, fought his way back and still had to miss the start of the 2021/22 season because a persistent strain plagued him. Recently, however, the agile speedy dribbler rejoined team training and confirmed the good impressions he had gained in preparation. The temporary crowning glory came yesterday, when Suhonen visibly added excitment the attacking play.
The fine beginning, the success achieved and, above all, the fact that the team had progressed to the next round ultimately created a mood of optimism among the HSV squad. Not least because of the overall successful start to the season (two wins, one draw), the self-confident look now goes towards the city derby, which is on the agenda next Friday. At 6:30 p.m. (from 6:15 p.m. live on HSVnetradio), the Red Shorts will be at the Millerntor and want to leave a presentable calling card in their fourth game of the season. So that only pure joy can be read in the faces after the final whistle.